Thames College Nugegoda, in association with CTH - UK (Confederation of Tourism & Hospitality), launched its much awaited Post Graduate Diploma (PGD) in Hospitality & Tourism Management at a special ceremony held at Galle Face Hotel on 23rd September 2011 with the participation of Hon. Prof. Tissa Vitharana, Senior Minister of Scientific Affairs and a distinguished gathering including prominent key figures in the industry.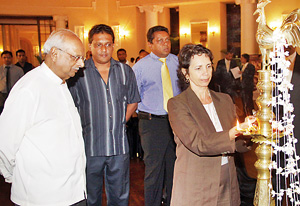 Ms. Janet Ford, Head of UK Trade & Investment at British High Commission of Sri Lanka lighting the traditional Oil Lamp. L - R: Hon. Senior Minister Prof. Tissa Vitharana, Dr. Thusitha Tennakoon, Secretary General of Federation of Chambers of Commerce and Industry of Sri Lanka and Mr. Anura Lokuhetty, President of The Hotel Association of Sri Lanka.
The event was well-attended by professionals from both Sri Lanka and UK.
The greatest advantage of CTH Post Graduate Diploma is that students can either start with industry related qualifications or 3 years work experience in supervisory or managerial level in the industry. This will pave the way for students to be MSc, MA or MBA qualified within a shorter period of 6-8 months after the completion of PGD. Further, all assessments are done through assignments passing up conventional exams in order to give students hands-on experience, thus making them more practical and market-ready. For further information, log onto www.thamescollege.lk
Confederation of Tourism & Hospitality UK (CTH)
Over the last 28 years CTH has focused on developing and adding value to careers in the industry, globally. CTH was established in 1982 as a specialist professional body in the UK to focus on the training needs of new entrants to the hospitality and tourism industries, and now has accredited colleges worldwide delivering sought after CTH qualification. CTH provides a ladder of progression in Tourism, Travel and Hospitality qualifications at Certificate, Diploma, Advanced Diploma, Graduate Diploma and Postgraduate Diploma level, and its qualifications provide appropriate academic preparation for students to apply for entry onto their final year degree programmes and Masters Top up programmes. This route delivers well trained and qualified employees and leaders for the sector.
CTH ensures its quality through its approved status with Ofqual and the QCA's UK accredited qualification framework. All qualifications are developed in conjunction with the UK Sector Skills Council, People1st, to ensure relevance, value and quality. This approach guarantees that CTH qualifications are valued by employers throughout the world.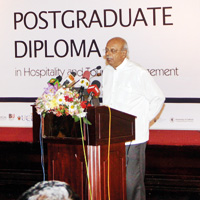 Hon. Prof. Tissa Vitharana, Senior Minister of Scientific Affairs, addressing the gathering.
CTH is a member of the Federation of Awarding Bodies. Its management qualifications are endorsed by over 25 British and international universities. CTH work with British Accreditation Council (BAC), British Council and Accreditation Service for International Colleges (ASIC) accredited colleges in the UK and Ireland and with its support, CTH expects centres to achieve suitable quality thresholds to enable effective training on its programmes.
CTH also has strong links with industry, with effective relationships and high profile endorsements from organizations such as Virgin Atlantic, GTMC, Star Alliance, Marriot Hotels Caribbean, Radisson Edwardian, Sheraton Hotels, Mantis Collection, Institute of Hospitality, Adair Leadership, The Chartered Institute of Environmental Health and many others.
Government rolls out new plans for Tourism in Sri Lanka
Sri Lanka, the country which has been admired for centuries for its immense natural beauty is tipped to be the next key player in the World Tourism Industry. Having lost its place during the three decade long war in the country, tourism is fast becoming top Forex earner for this resplendent island which counted 600,000th tourist last year recording 50% increase in tourist arrivals.
Setting a long-term target of 2.5 Mn arrivals by 2016 which will add US$ 3 billion to country's economy, His Excellency The President and the government have embarked on a new expansion drive by constructing around 200 beach resorts along country's naturally beautiful coastline to meet 65,000 additional room capacity. Adding to Sri Lanka's natural and cultural heritage will be a breathtaking line up of first-time events that are sure to mesmerize even the most seasoned traveler. Whether it is Sun, Sea and Sand or Religious and Cultural or Nature and Wildlife or Eco Tourism or MICE Tourism (Meetings, Incentives, Conventions and Exhibitions), Sri Lanka is blessed with all the necessary ingredients to attract tourists. Further, authorities have paid their core attention to attract 700,000 visitors this year by implementing more flexible terms such as hassle-free online internet visa procedure replacing decades old on-arrival visa system.
The industry expects to generate 300,000 direct employments while creating 600,000 indirect employments. However, with all these immense potential to become a booming industry, the requisite personnel to cater to these demands does not seem adequate to embrace the influx of tourists expected in the near future. Although Sri Lankan youth has inherited hospitality, their academic knowledge and practical skills should undoubtedly be enhanced in order to achieve this goal.