Reshan Saputhanthri, who has a dazzling history of championships and records in Athletics and in Gymnastics, is currently a physiotherapy student at IIHS, who is stepping towards an International American Degree in Physiotherapy from the "State University of New York" (SUNY Canton). Being a student who excelled in sports, his ultimate dream is to become a sports therapist one day, and to be a part of a world renowned international sports team.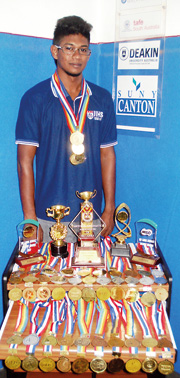 Reshan- IIHS Physiotherapy Student/National level athletic & Gymnastic player.
Reshan speaking about his past expressed; "I'm from Kandana and I initially attended De Mazonad College, before I joined Ananda College from Grade 07. From my very early childhood my main interest was sports, and I have participated in a number of competitions in different sports.
But as I gradually came to senior grades I realized that my main strength and talent was in Athletics and Gymnastics, and I started focusing more towards them. Ananda College was a great background for me to develop and enhance my talents under very good guidance from renowned coaches. During this time I participated in a number of sports events at National level and also in All Island sports meets and won a number of 1st places and runners up places together with few records in the Sir John Tarbet Athletics Championship."
Reshan has been a star performer at the All Island Meets in Gymnastics and has been the champion in 2005, 2007, 2009 and Runners-up in 2004, 2006, and 2008. He also won the 1st place in 'Vaulting Table' at the 2010 National Meet and also became the Novices Champion in 2008. In 2007 he has participated in the Junior Asian Gymnastics Meet held in Syria. He has also performed exceptionally well in the Sir John Tarbet Senior athletics championship by winning the 1st place in 2007 and 2008 and the 2nd place in 2009 in 'Pole Vault' setting a new record in the 2008 event with a height of 3.71m.
Reshan explaining how he found the correct pathway to his dream career, states "I did my A/Ls in the Biology stream at Ananda College with an aim to enter into a Career in Physiotherapy, but I didn't get enough marks to enter the local universities.
Then I started looking for other options to achieve my dream within a shorter period of time and it was then that I came to know about International Institute of Health Sciences (IIHS) through their website (www.iihsciences.com) and decided that this is the ideal programme to achieve my goal, due to several reasons. First, it is an internationally recognized American Degree, second the cost is very affordable as it is a pathway programme with two years done in Sri Lanka saving approximately 60% of the total cost, and thirdly a qualified Physiotherapist earns an average salary of over Rs. 450,000 internationally. Currently I'm about to finish my 1st year of studies at IIHS and I would be flying to New York in 2013 January to complete my Associate Degree in Physical Therapy. This would enable me to enter in to my dream career.
The job role of a 'Physiotherapist' in healthcare is that they prevent, treat and rehabilitate people and help people of all ages with physical problems caused by illness, accidents or ageing. It is a profession which sees human movement as central to the health and well-being of individuals. Physiotherapists identify and maximize movement potential through health promotion, preventive healthcare, treatment and rehabilitation. The core skills used by physiotherapists include manual therapy, therapeutic exercise and the application of electro-physical modalities. Physiotherapists also have an appreciation of psychological, cultural and social factors which influence their clients.
With his experience of over 30 years as a Medical Consultant working in the USA, Dr. Nihal De Silva, the Dean of IIHS says "The demand for physiotherapy services increased sharply over the last few years. This increase is largely due to the effects of the ageing population, shorter stays in health institutions, the shift to ambulatory care and an improvement in the survival rate of accident victims and newborns. Indirectly, the rise in life expectancy rates makes interventions in this field even more relevant, since they improve the quality of life of elderly people for an increasingly larger proportion of their life. In addition to improving the quality of life of patients, physical rehabilitation services make it possible to keep people suffering from physical problems at home much longer, thereby significantly reducing health care costs."
Dr. Deborah Molnar, Assistant Professor and Director of Physical Therapist Assistant Program, noted the collaboration between the two institutions was set in motion more than two years ago. "Our students and IIHS Students will mutually benefit from working with each other and student's knowledge of the science and practice of the program will expand, aiding the professional practice both locally and internationally."
Registrations have commenced for the third batch of the "Associate Degree in Physical Therapy", scheduled to commence on 20th October 2011. For more information & registration, contact; 0114-651144, 0774-142398, 0773-114381 Or Visit No. 704, Negombo Road, Welisara www.iihsciences.com