Award-winning international design firm 'Addikt' partners with AOD to produce Sri Lanka Design Festival 2011 Graphics. SLDF visual identity - SLDF 2011 visual identity by Addikt is implemented by AOD Graphics Department, and revealed through the official site www.srilankadesignfestival.com
Sri Lanka Design Festival (SLDF) has returned for 2011 with its third edition. The much-awaited festival, added to the anticipation when it recently announced that the globally successful design firm 'ADDIKT design movement' was commissioned to create the Graphics and visual theme for SLDF 2011. In par with SLDF's aim to engage designers and delegates from around the world, upgrading the festival visual campaign to international standards was imminent.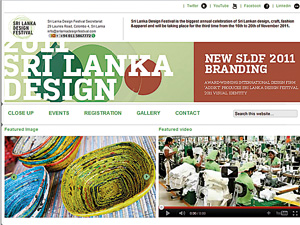 ADDIKT started as a motion graphics studio in Amsterdam early 2004, and evolved in to a new type of creative agency that has erased boundaries between film, web, animation and design. ADDIKT's expertise ranges from visual identities, commercials and short films to Big Motion projects across the world. Recently concluded Kyoorios Designyatra - India's largest design forum, was also one of ADDIKT's acclaimed works.
Barry Schwartz the Creative Director/Co-Founder of ADDIKT was a specially invited delegate of SLDF 2010 and is a firm supporter of Sri Lanka's mission in becoming a regional leader in design. ADDIKT's core team of designers, directors, artists and animators created a stimulating visual identity for Sri Lanka Design Festival 2011. SLDF organizer, Academy of Design (AOD) is implementing this visual theme through its graphic design department. Alain Parizeau, head of graphics department at AOD said that the identity designed by ADDIKT A close-up on Sri Lanka is a contemporary theme that brings Sri Lanka in to focus; "This theme and motion graphics draw parallels not only to SLDF, but also to Sri Lanka through its associated shapes, colours and movements."
SDLF unveiled its new visual identity with the launch of its website www.srilankadesignfestival.com on the 27th of September. The website launch is leading to the formal announcement of SLDF partners and programme on the 15th of October 2011.
SLDF is partnered by Coats Thread PLC, Textured Jersey, Trade Card, Hellmann, Sri Lankan Airlines, Mount Lavinia Hotel, British Council, Addikt Design Movement, Bates Strategic Alliance PR, Social mIdea and the Norwegian Embassy.
To contact Sri Lanka Design Festival; SLDF secretariat at AOD, 29, Lauries Road, Colombo 04 | (+94) 115 867 772/3, (+94) 115 742 480/90 | info@srilankadesignfestival.com