Toastmasters Club of Asia Pacific Institute of Information Technology (APIIT Lanka) celebrated its 2nd Installation ceremony on the 16th of September 2011 at the HNB Towers conference hall. This momentous occasion was also a platform to recognize the achievements of a young club in the Toastmaters fraternity.
Executive Committee
President -
Arshad Mohideen
Vice President Education - Chamath Silva
Vice President Membership -
Dasitha Medis
Vice President Public Relations -
Madara Hennayake
Secretary -
Minendra Sarathchandra
Treasurer -
Nafis Siddeeque
Sergeant at Arms -
Chirantha Sirikumara
The event had the good fortune of being graced by many eminent personalities such as the CEO of APIIT, Dr. Athula Pitigala Arachchi, the Chief Guest Mr. Viran Perera, the country Manager of MAST Global and Toastmaster Ms. Chrishanthi Emmanuel, the keynote speaker .Other prominent and experienced Toastmasters were also present that evening and amongst them were the Guest of Honour Mr. Chundika Ariyawansa, Division H Governor and Mr. Kamuburawala, Area Governor of Area H2 Toastmasters in Sri Lanka..
It was also a great privilege to witness yet another inspirational speech by a very charismatic Toastmaster Danajaya Hettiarachchi, who has made a name for himself in the International Toastmaster arena by being the first Sri Lankan to reach the Semi-Finals in the World Championship of Public Speaking.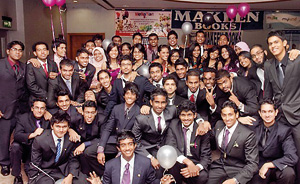 APIIT Toastmaster Family
Within the heart of every APIIT Toastmaster lies an unwavering passion for excellence. It is this passion that has made APIIT Toastmasters one of the most dynamic clubs in the world. As Mr. Danajaya rightly pointed out, "what sets the APIIT club apart is the clear existence of dreams and the determination to achieve those dreams that shine in the eyes of every member". This became evident as the evening unfolded as each and every member dedicated himself or herself to make the evening a success.
Since the inception of the club in the year 2009, APIIT Toastmasters has made great strides in the field of Toastmastering. Several of its members have represented the club in numerous Toastmasters International competitions. It has produced the youngest Area Governor in Sri-Lanka and also achieved Presidents Distinguished status in its first tenure.
The newly elected Executive Committee has many challenges in the forthcoming year, as they took their oaths to drive Sri Lanka's youngest club to greater heights. As proudly stated by the incoming President Toastmaster Arshad Mohideen "we have shared a common vision, we dreamed of a brighter future and we know that we can do anything if we put our minds to it." One should only see the passion and dedication in their eyes to know that their ultimate goal is to become a Presidential Distinguished club, yet again.
APIIT Toastmasters has witnessed many young speakers compete at national level, leaving lasting impressions of their talent. This is a testimony to the nurturing provided by the club to its members. It is without a doubt that APIIT Toastmasters has become an integral part of the global Toastmasters movement.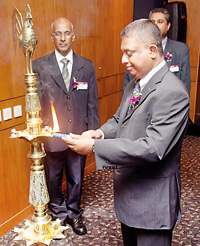 Lighting of the oil lamp by CEO of APIIT, Dr. Athula Pitigala Arachchi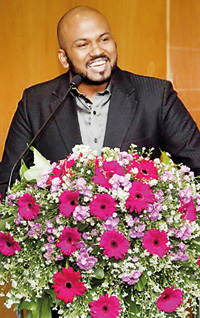 Speech by Toastmaster Danajaya Hettiarachchi