University of Ballarat, Australia together with CIMA have entered into an memorandum of understanding to provide a unique educational opportunity to CIMA members and exams completed students enabling them to complete their MBA from University of Ballarat, Australia with credit exemptions within one and half years.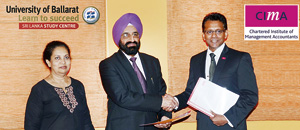 G.Bajwa, Campus Director , University of Ballarat, Sri Lanka Campus shaking hands with Mr. Bradley Emerson, Regional Director CIMA in the presence of Mrs. R.S. Goonetilleke, Academic Adviser UB Sri Lanka
The University of Ballarat is Australia's only regional multi-sector university and is the third oldest site of higher learning in Australia, and offer secondary schooling, technical and further education (TAFE), higher education, and research opportunities. University of Ballarat has taken the initiative to open a study center in Colombo - Sri Lanka .The students are enrolled directly in the University from day one.
It was very natural for these two institutions to come together to fill in the need for the CIMA graduates to get an Australian MBA.
This attractive offer for CIMA graduates registering with the University of Ballarat(UB) MBA would includes : Credit exemptions in three subjects of UB regular MBA along with 40% discount on fees, and would be able to complete the MBA within 1 1/2 years with nine subjects as three Semester course in evening/weekend classes, and finally, a recognised Degree from an Australian University.
Bradley Emerson, Regional Director South Asia, Middle East & North Africa, at the ceremony of the MOU signing said, 'The purpose of CIMA is to ensure employability and career progression to its members and students. We at the Sri Lanka Division consciously and continuously make an effort to fulfill this purpose. An Australian MBA offered to members and exam completed students in Sri Lanka is one such initiative. We are very pleased to have The University of Ballarat Australia coming forward to offer this unique and exclusive opportunity at a very special price to our members and exam completed students."
G.Bajwa, Campus Director, University of Ballarat, Sri Lanka campus, welcomed this development and assured that CIMA graduates will be provided with the International quality education facilities and the students will be provided with a large number of course subject options to choose from, so that, they can get a specialised MBA from UB rather than a general MBA being offered locally.
The fee for the completion of the degree is very transparent and enables students to understand the total financial commitments at enrollment. An MBA which will cost the students more than LKR 2.75 Million in Australia can be completed in less than LKR 500,000 in Sri Lanka. The first intake of students will commence on 10th October 2011 The programme of study will start with evening lecture sessions at Habitat House,113, Dutugemunu Street, Kohuwala.