Not even ever so good Dr. Mervyn Silva, MP, who recently saved the lives of so many sacrificial goats and roosters, could step in this time. The Lankan national cricket selectors led by former skipper Duleep Mendis had the audacity to sacrifice veteran Thilan Samaraweera at the cricket's altar on his 35th birthday.
A veteran of 68 tests with 4,683 runs at a healthy average of 52.61 runs -- Samaraweera was unceremoniously beheaded when they sat down to select the touring squad to take on Pakistan next month in the United Arab Emirates.
Also to be fair by the selectors, the only crime committed by Samaraweera was that he reached the age of 35. Generally from that point onwards a cricketer walks faster towards the easy chair than the crease.
Yet, what made them arrive at this decision is still mind boggling. From Sri Lankas last win against India a year ago, they are still looking for a win and, more often than not, it is their batting that has been woefully exposed during their 1-0 series losses to England and Australia.
These two tallies would have read even worse if Samaraweera hadn't scored that unbeaten 87 against England at Southampton and that forty three vs Australia in the second Test at Pallekelle. This means that he is not a batsman out of form, though in comparison to the high standards that he has set for himself scoring ten hundreds, two double hundreds and 29 fifties. In other words, his more than 50 percent of his visits to the crease had guaranteed scores over a half a century.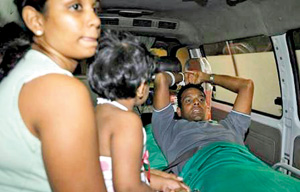 Thilan --- A victim of circumstances
Samaraweera has scored two double centuries and four half centuries against Pakistan. So the man who begun his career with a debut century against India in August 2001 was dropped at the same ground ten years later and axed from cricket, may be forever, a few days later. Within the next six months, Sri Lanka is billed to play six Test matches – three each against Pakistan and South Africa.
All this began during the recent series when skipper Tillikeratne Dilshan found run making an arduous proposition especially in the aftermath of his epic 193 against England at Lords and the people that matter began to seriously ask questions. So they rocked back and put the Lankan captain in his original slot in the Lankan line up and that fired with Dilshan once again becoming a contributor in the side's score of 400+ against Australia in the third Test.
However, my question is why drop Samaraweera altogether? Still he is a batsman who can make a worthy contribution. Could this move be an attempt to make struggling Dilshan's shift to the middle order a permanent one? At one point of history, Dilshan was struggling in the same vein in the middle order and the then hierarchy considering his seniority and his talent gave him a chance up in the order and that move culminated in him ending up as captain.
Then the move should apply to all forms of the game like Indias M.S. Dhoni who has moved to the number six position in all forms of cricket. The hard hitting Indian batsman even moved his crease attitude and became a subdued entity who is more akin to accumulation and nurturing the lower order with the progress of his inning.
Can Dilshan move on to a role of that nature? Where he waits watching the top order performing and then walk on to the crease to mould his inning to suit the situation at hand? Recently Dilshan said he did not intend shifting the gears of his game, but a few days later came down the elevator and batted in the middle and looked more composed though he scored his runs briskly?
With the present development if the selectors cannot find Samaraweera a permanent slot, be it so, let him be at the bench and thus giving the Lankans superb bench strength. Why we argue at that point is that the selectors have named five wicket-keepers in this squad of sixteen. Leave skipper Dilshan a side, the other three – Kumar Sangakkara and Dinesh Chandimal are active wicket-keeps if the regular Prasanna Jayawardena is indisposed or injured. Then why bring in another wicket-keeper to the squad in Kaushal Silva? At the age of 25 he has time on his side, but, on the bench would he be as strong as Samaraweera as a replacement?
So far we have not heard of Prasanna Jayawardena breaking down half way through a series with injury. Nowhere in the World that we have heard that a team carrying five wicket keepers in their kitty on a three Test tour.
This is the point that we see in the dropping of veteran Samaraweera, a man who still can contribute. It seems a bit smelly.
When we argued with an insider on the axing of Samaraweera, his answer was, "Can we have people like Sanath, Marvan and Samaraweera on the bench. Whatever the strength they bring in -- a veteran on the bench means problems."
It is no secret behind the curtains that the Lankan on-field hierarchy is blighted with factionalism.
There was a point when Samaraweera was even tipped for bigger deeds while some one else was the captain, but now that the scales have tilted, is one faction trying to clear out its opposition?
There is a section of cricket insiders who believes so.
Besides the burning issue, it is heartening to note the performance of the find of the Australian tour -- Shaminda Eranga. Eranga proved himself to be a bowler with a future by bowling himself into serious contention by taking wickets of top order batsmen.
At the same time Suranga Lakmal keeps improving by the game and is likely to become a steady figure in the Lankan line up while it is good that fast bowler Nuwan Pradeep has been included. Yes, he has to be nurtured back into match situations after his bad experience with the IPL, where he was hacked to injury at the nets.
Chanaka Welagedera and especially Dhammika Prasad should feel lucky to be wearing the national blazers as they have not come up with an iota of the expected results. Both started off well, but keep going down at every following outing. Yet they get picked.
Where is Nuwan Kulasekera – have they given him the "only ODI tag"? We do not know how the desert wickets would behave, but Randiv and Heart, the two established spinners, have a job at hand, but they do not have the luxury of getting injured like the wicket-keepers in the squad.
The rest of the places in the squad are established ones.