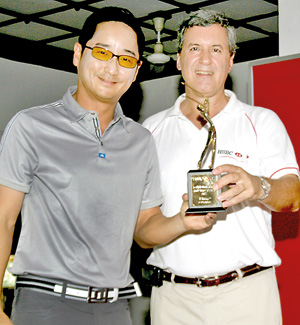 Best HSBC Premier Golfer in Group A & B - Y.K Chung receives his award from Nick Nicolaou - CEO of HSBC Sri Lanka and Maldives
The Royal Colombo Golf Club once again gave golfing enthusiasts of all stature an opportunity to compete for the challenge trophy of HSBC's annual 5-Club Stableford Golf Tournament 2011, held for the seventeenth year.
The tournament which concluded over the last weekend saw over 230 enthusiastic golfers in the Men's, Ladies' and Senior's categories, displaying remarkable sportsmanship and golfing technique on the course to be adjudged the best players' of the tournament.
After a very intense competition, winners were announced at a special awards ceremony held at the Club House with HSBC Premier Golfers and RCGC Club members in attendance.
The best HSBC Premier golfer of category "Group A & B was Y. K Chung whilst "Group C, Seniors and Ladies" category was won by J. Huxtable. The overall Challenge Trophy was won by Andy Anderson.
The two best HSBC Premier Golfers were each awarded with a fully sponsored travel, accommodation and hospitality package to Hong Kong to play at the regional HSBC Golf Tournament (HSBC Charity Golf Day) held at Clearwater Bay Golf & Country Club, on 17 October 2011. Moreover, based on their performance, they will also have the unique opportunity to take part in the Pro-Am event at the HSBC Champions Tournament at Sheshan International Golf Club in Shanghai, China on 3 November 2011, alongside international star golfers. The return airline tickets were sponsored by Asia Miles, the tournament's travel partner.