Winning more games than they are losing, reaching the knockout stages of the World Cup, and providing intermittent entertainment; England are a 50-over outfit transformed under head coach Andy Flower, as they are in Test cricket.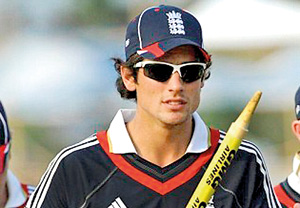 Victorious England ODI Captain Alastair Cook
So, what has changed? You could probably list a 100 little things (again, as in Test cricket) but here are the ones that stand out.
Being unafraid to innovate
English cricket has an inbuilt fear of change, evidenced by their spectacular lack of success in ODIs since tobacco sponsorship went out and coloured clothing came in. The only reason they didn't try to use a super-sub at the 2007 World Cup was because they never really understood how it was supposed to work and Michael Vaughan thought it impolite to ask. No more. Flower's reign has seen an investment in the unorthodox cricketers so central to limited-overs success - in particular Eoin Morgan and Jade Dernbach, who both received media criticism during early wobbles but are now indispensible. India were to put it mildly fed-up by mid-September but it was nevertheless the home team who had all the ideas on the field.
Alastair Cook actually looks good
Having in the Ashes won over the doubters about his appetite for the toughest challenges in Tests, the left-hander has it all to do again in one-day cricket. His appointment as 50-over captain looked a classic regressive England ODI move but he has impressed so far. Most important, of course, is his own performance. As usual the top ten batsmen in the ODI rankings - Hashim Amla, AB de Villiers, Shane Watson, Jonathan Trott, Kumar Sangakkara, MS Dhoni, Michael Clarke, Michael Hussey, Virat Kohli, Tillakaratne Dilshan - contains more proper Test batsmen than wild one-day slashers. There is no prior reason to say that Cook cannot be an ODI asset, but he will have to play differently to have a chance. Having seen Andrew Strauss convert himself late in his own ODI career, Cook knows he has the opportunity and the environment. The admission that he nearly dropped himself for the curtailed second ODI at Southampton was a further confirmation of a hitherto hidden flexibility.
No favourites
I wanted to see Stuart Broad dropped for the Test series against India and was in good company; Surian Botham said as much too, and when the all-rounder kept his place he seemed to owe it to the T20 captaincy rather than form - Flower and Strauss wanted too badly to keep the "three kings" brains' trust together. Broad winning player-of-the-series justified the selectors' faith (not to mention the general public's scepticism of mine and Botham's punditry skills). Subsequently Flower showed that being in the inner circle was not enough. Cook's stock could hardly be higher at the moment yet when Broad and Morgan fell injured and the 50-over skipper declared his availability to lead in T20, Flower pretended not to hear and blithely turned to Graeme Swann. The competition for middle-order places is the next place where loyalty will be tested; Jonny Bairstow's debut knock puts him on a plane to India while it's still whispered that Cook and Jonathan Trott cannot play together in limited-overs cricket. Who would drop the ICC Player of the Year? Flower would.
Cheating at the toss
Possibly England have won 38 of 64 tosses in ODI cricket since Flower became the head coach on a permanent basis. The probability of winning such a high proportion is very small - little more than eight percent - and the only occasion in his two-and-a-half year reign that Flower has missed an ODI (in Dublin last month) his skipper called incorrectly. As Napoleon said, 'Give me lucky generals. Or failing that, a Zimbabwean with a two-headed coin.' Cricket365