New Young SC were at the receiving end of a frightening 6-0 drubbing, when they were outclassed and outworked by a Renown SC side that was buoyed by a sublime hat-trick from Mohamed Zain, during their Dialog Champions League footballing encounter at the City Football League grounds yesterday.
The spectators had barely reached their seats when the scoreline already read 1-0, courtesy of some shabby goalkeeping and meek defence. The ball was played threateningly into the box before Renown's Chatura Guneratne raced to it ahead of New Young's goalie P. Madushan, whose feet seemed planted near the goal line.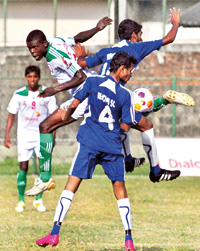 Striker Daksan Piulus of New Youngs (in white) vies against Renown players Abas Ahameda and Mohamed Rizni (4). (Pic by Mangala Weerasekara)
The result was an early goal which was quickly complimented by another within the next two minutes.
Once again the goal sprung from a goalkeeping error from Madushan, who had a game he would like to quickly erase from his memory. This time however, the blame did not solely lie with him, as his defenders seemed to be ball watching and failed to prevent the marauding Zain from sending the ball into the bottom corner of the goal. New Young somehow managed to hold on for the remainder of the half, only to concede again in the 47th minute. The hat-trick hero Zain showed off his speed against a defense that had struggled all day to successfully mark him, blazing into the box and blasting home. The wind had now been completely taken out of the sails of New Young, and they seemed content just to saunter across the field aimlessly, absorbing wave after wave of attack.
Inevitably, the fourth goal came in the 53rd minute, this time due to a move of offensive brilliance. The ball was slickly passed between players until a searching long ball finally dissected its way into the box for Fazlar Rahaman, who found himself one-one-one with Madushan, to calmly guide the ball home.
Madushan made his already miserable day an absolute nightmare moments later, when he failed to hang on to a relatively straightforward shot at goal. His gift placed Guneratne in the running for a potential hat-trick. However this honour was to be bestowed on Zain in the 75th minute, when he skillfully beat Madushan and slotted home the final goal of a game which seemed to be raining them.