Unfortunate as it maybe, despite performing up to their potential Moratu Vidyalaya was demoted to the Division II of the Schools Under-19 cricket tournament on disciplinary grounds last year. But Moratu Vidyalaya has already proven that they are a unit fit enough to be in the top division.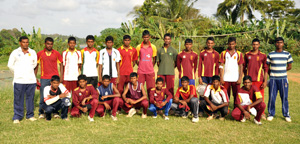 Moratu Vidyalaya squad Pix by Amila Prabodha
The well experienced side is captained by senior player and all-rounder Sanka Ramesh who won the runner-up awards in the Emerging \Cricketer's and Best Batsman's categories while also winning the award for the Best Allrounder at the Bata-Sunday Times Schoolboy Cricketer awards night in August this year.
Ramesh is greatly supported by three other seniors who reached over 600 runs during last season. The seniors are mainly allrounders who are capable of turning a match into their favour. In addition Moratu Vidyalaya is banking on their talented set of youngsters from the Under-17 and 15 teams for this year.
Last year they played 16 matches in total and won four while ending a majority of their games in draws. With fate playing a major role in their survival on the top, this year they compete among Division II cricket teams but the entire team is determined to gain their lost status.
"This year our main aim is to become the best team in the group and regain a slot in the top division. We did considerably well last season but at the end we were unlucky to get demoted. But it's all part and parcel and there's nothing like fighting your way back to the top," courageous Ramesh said.
As at present a young set of 25 players include in the Moratu Vidyalaya cricket pool. All of them are equally committed and the combination of talents. Apart from the four seniors, Moratu Vidyalaya relies much on the young set of fast and spin bowlers. The coach, Prasanna Dissanayake, who has been the coach for the past 15 years, is also the master-in-charge of the team from recent.
"We have a fresh but talented set of cricketers. The squad mainly has the best players from the Under-17 and 15 teams who are equally talented as the seniors. The choice is immense and I as the coach will have a tough call in selecting the playing XI which will have at least seven all-rounders. We have a very good team this year but all will depend on the luck end of the day. If things strike our way we can get to the top division within a couple of years while achieving our targets this season," optimistic Dissanayake explained.
The Moratu Vidyalaya first XI squad: Sanka Ramesh, Janitha Samarajeewa, Ishan Peiris, Kalana Chathuranga, Iresh Chamara, Harsha Devinda, Eranda Madushan, Lasihta Madushan, Madawa Fernando, Chanaka Peiris, Kavishka Thilan, Dushan Sulakshana, Amila Lakmal, Ashan Kanchuka, Shanuka Lakmal, Shanaka Roshan, Uchithra Harshana, Shafraz Fina, Nipun Vishwantha, Pathum Madushanka, Maduka Sandaruwan, Sanesh Champaka, Ushen Tharuka, Savinda Maduranga.