It is very pathetic to see our team losing in Sri Lanka and abroad. The way things are happening it is difficult to predict that our national cricket team will come to the winning string. Against England and Australia we are the humble pie in both ODIs ad Test series. It looks to me that this will continue for a long time. Ultimately Sri Lanka cricket will suffer. Our top order batsmen do not show any class except for one or two. It looks to me that they are unable to put up match winning totals on the board. So our bowlers find very difficult to defend those low scores.
It seems to me that our batsmen have no determination and passion to win. They play all sorts of shots and gift their wickets to opponents. When we play a one day international we must score at least 275 runs. Then our bowlers have a chance to bundle out the other side. But I do not see our players are playing with guts to score substantial match winning totals.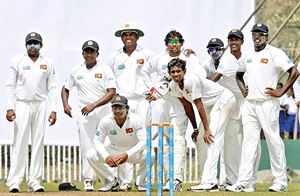 Cricket should continue after Sanga and Mahela
There is no glamour in their batting. Also there is no consistency in their batting. A hand full of batsmen show their colours in fits and starts. If you continue to play like this our ranking in ODIs will go down. Our players have all the talent in the world. But they are mentally not fit to play. Our cricket Board has to do something to make their mental approach positive to play this wonderful game. Also if you keep on changing players like musical chairs they will not improve. If the selectors spot a talented player and give a place in the national team, he should be given a fair and sufficient chance to prove his worth. He should be assured of his place and give him a free hand to play his natural game. Then there is enough room for a new player to blossom. If he plays to please the selectors he has no chance of becoming a great player. I hope our selectors will not kill our born, talented players.
To play a test match our batsmen should have the staying power. If not it will be very difficult to put up over 500 runs on the board. If our batsmen score over 500 runs, the opponents are always under pressure when they bat. Then our bowlers always have a chance to get them out for a low total. That looks very dangerous for our future.
Our bowlers are very young to international cricket. They need encouragement and time to be world class bowlers. Overnight they cannot be legends like Muttiah Muralitharan or Chaminda Vaas. Our selectors should not expect miracles from them at once. If they keep on changing the bowlers no bowler will improve.
What we should do
We should select a pool of 16, with experience players and young blood. Often try to play the same eleven for every match. Must not change players every now and then. If you keep on changing young blood will never get a chance to be matured players. To me our batsmen and bowlers are good and they have the talents and skills. If they are given a long period of time they will learn many things on their own and become great players. Then our cricket Board should arrange some programme to make them mentally fit.
Then Mahela Jayawardene and Kumar Sangakkara are two aging players. At present they are O.K. But the day will come they will have to hang their boots. Then there will be a very big vacuum in our batting department. Selectors have to think seriously and prepare two replacements for these two veterans. If not we will have a mediocre batting side when these two players retire. I am sure that our cricket Board and selectors will open there eyes and act accordingly and wisely. If not our Sri Lankan cricket will be at death's door.
Bro. Nimal Gurusinghe