Prince of Wales' College, Moratuwa had a fine first XI cricket season last year but all their efforts were brought to naught with the defeat in their annual big match. Their traditional and hometown rivals, St. Sebastian's eventually emerged as the second best school cricket team in Sri Lanka and the Cambrians had to bow out last season with great disappointment.
But this season, Prince of Wales' cricketers under their new coach Suranga Wijenayake are determined to make a strong impact. The side is led by senior coloursman and batting all-rounder Tharindu Dilshan who accumulated 650 runs and claimed 56 scalps last year. The final squad of 16 players has a balanced combination of five well experienced seniors and capable youngsters from their Under-17 and 15 cricket teams.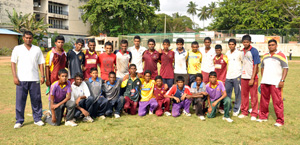 Prince of Wales' squad. Pix by Amila Prabodha
Among the seniors are skipper Dilshan who bats at No.4 and bowls off-spin. In addition are Ashen Mendis, wicketkeeper/opener Kusal Mendis who also captained the Sri Lanka Under-15 side, Hashan Fernando and Chamika Sasanka. Rest of the squad mainly consists of 12 players who have come up the ranks.
"From those 12 about eight are fit enough to play first XI cricket. With them we make up a balanced side with a strong set of all-rounders. Batting will be our plus point as we have an experienced top and middle order. In bowling, apart from myself are two other spinners worth watching. Both leg-spinner Shanuka Fernando and off-spinner Jayanga Peiris are very young but they will be our main weapons this season," said skipper Dilshan.
Coach Wijenayake, an old boy of Prince of Wales' holds the record for best bowling for the school with figures of 7 for 33 in a big match wants to see his side emerge on top this season. He is presently assisted by his then team mate and deputy Kalinga Dissanayake. According to the coaching staff fielding has been one of the major concerns but they have managed to overcome the setback with quick remedies.
"The combination of batting and bowling is quite overwhelming and well balanced. But fielding was not in a good state when we began our preparation couple of months ago. With the help of my assistant and the commitment of the players we are doing great in fielding and we are sure to go out and challenge the best sides with our potential," coach Wijenayake stated.
The Prince of Wales' cricket squad: Tharindu Dilshan, Hashan Fernando, Kusal Mendis, Ashen Mendis, Shanuka Dulaj, Sachin Silva, Jayanga Peiris, Nimesh Jayawardena, Thilan Kumara, Janeesha Fernando, Suchira Fernando, Shenal Chethaka, Pramesh Pathirathne, Ravindu Sasanka, Nishka Supul, Crishane Aponso, Pasan Nelaka, Rajindu Piripun, Sachithra Pushpakumara, Isuru Pushpitha, Yoshan Kavindra, Thushan Chathuranga, Sachin Pushpika. (NA)