Fifty years is a lifetime. Yet for my uncle, D.P.R. Rajapakse who completes 50 long and fruitful years as a criminal lawyer, it has been an eventful journey. His legal career commenced back in 1960, when he took oaths as an advocate before a distinguished bench comprising legal luminaries -the likes of Hema Basnayake (former Chief Justice), Justice E.H.T. Gunasekera and Justice L.B. de Silva.
His contemporaries were men of the highest calibre practising the law - D.S. Wijesinghe PC, G.P.S. de Silva, a former Chief Justice, L .G. H. Weerasekera, Ananda Coomaraswamy and Ananda Grero among them. He was among the 16 or so advocates in active practice at the time. He worked with the best criminal lawyers of the day - Sir Ukwatte Jayasundera and G.G. Ponnambalam Snr, whose legal brilliance set the tone for the then young lawyer to follow. He was also junior to Lucien Weeramantry in the S.W.R.D. Bandaranaike assassination case.
As he looks back on a career spanning a lifetime, Uncle Raja says he was always a criminal lawyer - his specialization was that. His was not the civil brief. The A.G at the time, A.C. M. Ameer wanted him to join the official bar as a Crown Counsel but he didn't. His practice had taken off by then and once hooked, he was ever the criminal lawyer.
Even now, still alert, with a composed legal mind, he drives himself to the various court houses, from Chilaw to Puttalam, Batticaloa, Trincomalee, Negambo and back to Colombo. Ever ready for a steady courtroom battle where he still commands a brilliant performance, the adrenalin pumps when the witness enters the witness box.
Always read the complainant's police statement carefully - absorb it, he says, in a word of advice to young criminal lawyers, then only come to the story of the accused. Often you will find gaps in the complainant's version; that's where the beginning of your client's defence will come from.
He should know - 50 years of law is a brilliant innings and the best part of it is that he is still going strong, still retained with the same sense of conviction and belief that he had 50 years ago.
Uncle Raja says a criminal lawyer should never select a case on its merits - take it on and give it your best shot. He enjoys his work - every day is a new challenge, in a different court, before a different judge. As a criminal lawyer, decisions may be taken on the spot, on your feet - an attentive mind, a swift response - after 50 years as a lawyer, Uncle Raja is still very much in possession of both.
Uncle Raja cut his teeth in politics as a close aide of former President J. R. Jayewardene in the first glow of the 1977 UNP victory. He went on to serve the Ports Authority, then known as Port Cargo Corporation, The Plywood Corporation and the Ceylon Shipping Corporation. He was then appointed as the Deputy High Commissioner to the Sri Lankan High Commission in London, where he served from 1981 - 1985. He was a member of the old elite of the grand old party; a staunch loyalist to the greens who never departed from that.
Uncle Raja was a product of Ananda College which he left to enter the University of Colombo in 1947. It was during the time of famous Principal Mettananda. Uncle Raja was teaching at Ananda College, having left school. What he was teaching the students, that Sinhala Only was not the right way to go, was conveyed to the Principal who was an avid Sinhala Only supporter. And that ended Uncle Raja's teaching career at his alma mater.
Uncle Raja is a devout Buddhist and has played a benevolent role to the temple and people in need.
His gracious wife, my mother's younger sister Mallika passed away just three years ago, I still remember him impeccably dressed, waiting to drive his black Mercedes, while we children played in their then sprawling garden. He and my aunt would entertain the family - there was a lot of music from their radiogram which blared out Bombay Meri Hai while my aunt played the piano.
As he celebrates 50 years of a long journey, Uncle Raja will miss a wife who was by his side through thick and thin, Mallika, known to us as Tissy Punchi. His children Sandamali, herself a lawyer, Chintaka, a pilot and Amali who studied at the University of Portsmouth UK and now lives overseas, will join in sharing his joy. As a lawyer's wife myself, I can only hope that younger lawyers will get to enjoy their work as much as he has done- and continues to do.
Nayomini Ratnayake Weerasooriya
---
The Gypsies to rock the night at HFC PPA Variety Show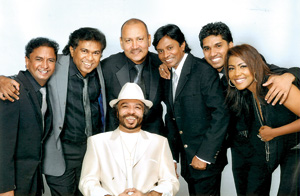 The Past Pupils' Association of Holy Family Convent Bambalapitiya will present a Variety Entertainment Show 'Sing-along with Gypsies' at the Hotel Taj Samudra on Saturday, October 1 from 7 p. m. onwards.
The "Gypsies" will be the highlight of the event, while the versatile Clifford Richards will be the host of the evening. There will also be a fashion show of the creations designed by Nadia Iqbal of "Nadiya Fashion Studio" who has exhibited at Colombo Fashion Week and Art Walk. Nadiya designs under the label 'Melache' and has her own boutique at Visakha Road, Colombo 4.
The show is open to the public. Tickets priced at Rs. 3000 inclusive of a snack buffet, are available with the committee members and at the school office. A souvenir comprising song lyrics of over 100 well-loved songs of yesteryear that can be kept and re-used will be available for Rs.100 at the entrance.
Proceeds of this fundraiser will be utilised towards the school development projects and for other specific projects identified by the PPA.
The Gold Sponsor of the event is Entrust Limited, while the media sponsors are the Wijeya Group, and the electronic media sponsors EFM and Swarnavahini.

5 hospitals in North get medical equipment from ADT
Alliance Development Trust (ADT) recently donated medical equipment to five hospitals in the Northern Province. Two container loads of medical equipment including dental equipment, hospital beds (children/adult), mattresses, linen, hospital clothes for patients, hospital furniture, wheelchairs, computers etc will go to the General Hospital, Kilinochchi, Divisional Hospital, Tharmapuram, Divisional Hospital, Mulankavil, General Hospital, Mullaithivu and Base Hospital, Mallavi.
The equipment was handed over at the Pallai Divisional Hospital, Kilinochchi with Governor of the Northern Province Major General G.A. Chandrasiri, Parliamentarians Namal Rajapaksa and Chandrakumar, Dr. P.G. Maheepala, Additional Secretary (Medical Services) , Ministry of Health and R. Raveenthiran, Secretary, Ministry of Health and Indigenous Medicine, Northern Province, Doctors and staff of the hospitals present at the occasion.
---
A historical sea journey of ancient times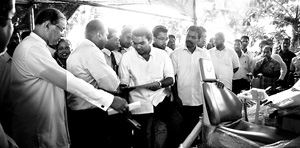 Cosmas Indicopleustus, a 6th century Greek merchant and monk highlighted the strategic importance of the island of Sri Lanka in ancient sea routes and trade in his reference to the port of Mantai as a Great Emporium.
In an informative lecture "Mantai - The Great Emporium of Cosmas Indicopleustes", Dr. Roland Silva, former Commissioner of Archaeology and founder President of the National Trust – Sri Lanka, will take his audience on a voyage of discovery through historical references and illustrations which highlight the strategic position and relative importance of the island in maritime trade in ancient times. His lecture highlights the initial use of the Port of Mantai (now referred to as Mannar) and Adam's Bridge as the northern route before the increased draft of ships forced the use of the more southern route.
The lecture will be held on September 29 at the Auditorium of the Institute for Construction Training & Development (ICTAD), 'Savsiripaya', 123, Wijerama Mawatha, Colombo7 at 6.30 p.m. Parking is available.
---
Earthquakes and tsunamis in Indian Ocean
"Indian Ocean Earthquakes and Tsunamis" , a lecture by Professor Jinadasa Katupotha, Department of Geography, University of Sri Jayewardenepura, Gangodawila, Nugegoda under the auspices of the Royal Asiatic Society Sri Lanka (RASSL) will be held on Monday, September 26 at 5 p.m.at the Gamini Dissanayake auditorium,No. 96, Ananda Coomaraswamy Mawatha, Colombo 7. All are welcome.
---
Dove launches new hair care range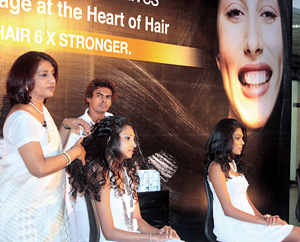 The hair care brand specializing in damage therapy Dove last week introduced a new line of hair care therapy range which they claim will leave your hair soft, smooth and shiny. Dove has patented their new technology of functional internal repair 'Fibre Actives' and it will be exclusive to the Dove brand products.
Endorsing the new range, grooming specialist Nayana Karunaratne shares that 'hair strands are made of little scale-like cuticles that open up when they come in contact with water, cleansing agents or any other foreign elements, which in turn leaves the hair dry, rough and with lots of tangles. These cause hair damage in different forms and proportions and leave us with a need for proper hair care solutions'.
The new Dove damage therapy range comes in three variants- Intense Repair, Dryness Care and Daily Shine with a conditioner to bolster its effects. The new range is now available at all leading supermarkets, pharmacies, groceries and retail outlets for cosmetics and toiletries.
---
Charandas to perform at Chennai drama festival
Parakrama Niriella's drama 'Charandas', a production of the Janakaraliya Theatre group has been invited to perform at the "8th Kalamamani Kannappa Thambiran Memorial Drama Festival" in Purisai, Chennai, India. This Festival is conducted annually by the "Parambarai Theru Koothu Manram" theatre Institute in Pureesei and will be held from October 1-30.
It is for the first time a Sri Lankan drama will be performed at this festival which attracts an international audience. 2008 saw the Sinhala language version of 'Charandas' performed at the International Drama Festival in Delhi, India and during this tour the Tamil version of the play was performed at the Universities of Chennai and Pondicherry and at the villages Pudukkam and Arambakkam.
An award-winning production, both Sinhala and Tamil language versions of 'Charandas', received nine awards at the State Drama Festival 2006 including Best Drama, Best Adaptation and Best Actor.

Ladies' College OGA Members Night
The Ladies' College OGA will hold Members Night on Friday, September 30 in the Old Hall from 7 p.m. onwards. Tickets priced at Rs. 1000 are available with the Committee members and in the School Office.
---
Don't miss the magic of BC's Alice in Wonderland
Thirty two children will take the stage to celebrate World Children's Day on October 1, with a production of "Alice in Wonderland".
The children were part of a series of innovative drama workshops organised by the British Council Library for the second consecutive year. Fifteen of them are children of war heroes and were selected from the Defence Services College. The other 17 kids are members of the Young Learners' Centre at the British Council Library. The workshops were conducted by British Council teacher, Anabella Brochard.
available at the British Council library in Colombo (Tuesday to Saturday from 9 a.m. to 5.30 p.m. and Sunday 9 a.m. - 4 p.m.) For more information, please contact the British Council Library on 4521496.
---
Papers called for National Conference on Buddhist Studies
The 7th National Conference on Buddhist Studies organized by the Dept. of Pali and Buddhist Studies, Sri Jayewardenepura University in association with the Buddhist Times Trust will be held on December 10 and 11.
Research papers relating to Buddhism would be welcome from a variety of disciplines such as Buddhist philosophy, Buddhist civilization, history, psychology, sociology, Buddhist scriptural languages and literature and other related disciplines in humanities and social science. The papers can be presented in either English or Sinhala.
Abstracts of papers should not exceed 300 words and must include Title, Author(s), Affiliation, Address, Tel/Fax, E-mail address (if available). Abstracts should be sent by e-mail venyasassip@gmail.com with a copy to hgoonatilake@hotmail.com as attachment in Word, or by fax to fax no: 2803196 or by post to the Dept. of Pali and Buddhist Studies, Sri Jayewardenepura University, Nugegoda.
A committee of Buddhist scholars will select the papers, and acceptance will be notified. The coordinators are: Ven Dr. Magammana Pannananda Thera (pmagammana@gmail.com 0779303407)
Ven. Dr. Medagampitiye Wijithadhamma Thera (yatagama2@yahoo.com 071-4511863)
Ven Panahaduwe Yasassi Thera (venyasassip@gmail.com 0714879654)
The deadline for submission of abstracts is November 1, 2011. Members of the public can send in papers as well.