Clad in a sarong and an orange shirt, Jesse Lee from the USA seems quite comfortable in his unaccustomed Oriental attire. One of around 60 participants between the ages of 20 and 29, (30 Sri Lankan participants and 33 International participants) at the Training For Trusteeship (TFT) workshop held recently, he says the workshop has the ability to bring together people from different cultures to point out how unique and yet how similar cultures are.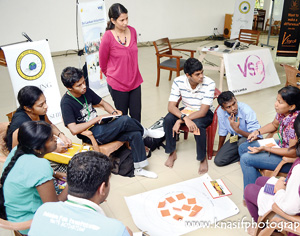 A group activity in progress and below Judge Weeramantry addressing the participants at the workshop
The TFT 2011 workshop organized by the Weeramantry International Centre for Peace Education and Research – Sri Lanka (WICPER) was held for the fourth consecutive year under the theme 'Youth Activation: Duties toward our common heritage'. Held from September 4 to 11 at the Sanasa Education Campus at Kegalle, it brought together young people from various parts of Sri Lanka as well as the SAARC countries (except for Bhutan) and the USA.
"The central idea of the workshop is 'trusteeship' and encouraging people to fulfill their obligation to the environment," explained Judge Christopher Weeramantry founder of WICPER and former Vice- President of the World Court.
WICPER, built on the foundation of Peace Studies, Intercultural Understanding and International Law believes that each of these is an indispensable instrument of peace and that peace is not merely the absence of conflict, but also the presence of justice. The work of the Centre aims at dispensing information and understanding in these areas at all levels, from the school room upwards.
TFT in its turn serves as a unique platform where young leaders from universities, educational institutions and youth organizations belonging to different cultural, religious, geographical and professional backgrounds work hard in civic-related activities to bring about positive and progressive social change.
"The workshop is going well and smoothly," says a contented Judge Weeramantry as the Sunday Times visits midway through the week. Friendly banter and laughter fill the lunch room as they all sit down to a meal of delicious rice and curry.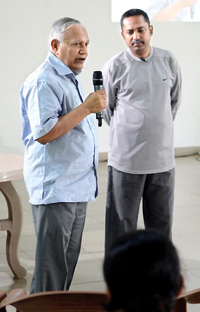 This time special emphasis was laid on the UN year of forests and UN year of volunteers. In addition, owing to the participation of youths from the South Asian region, the training and skills development also focused on the South Asian youth action to achieve sustainable development. Topics such as social media networking, climate change policies, reforestation, volunteerism, conflict transformation and peace building were focused on.
"The environment is the crux. Without a healthy environment nothing can be sustained," says Jesse earnestly. A graduate in Environment Science, Jesse who enthuses about how "fantastic" the workshop was, grins broadly as he explains his job back home in the USA. "I work for an innovative vehicle company that uses pedals and electricity," he says pausing before he quips "and we get about fast!"
Jesse is just one among scores of others who have benefited from the Trusteeship Programmes over the years and have carried out projects covering various social issues such as English education in rural areas, health and medical care to the elderly, the differently-abled, legal aid and awareness to those in former conflict areas in order to strengthen the rule of law, and protecting the environment and cultural heritage.
The TFT workshop has been conducted since 2008, when it started off as a workshop for University students. "Though it was still in the middle of the war, we were able to have with us two students from Jaffna who received funding from the UNESCO," says Damithri Welikala, coordinator of multi-cultural research for WICPER.
TFT grew slowly and steadily, including youth groups in the second year and adding private institutions in the third year. "This year we went regional too," smiles Damithri who cherishes the hope that they might 'go international' next year.
Selected participants are given an opportunity to meet, interact and learn from experts from diverse fields such as climate change, social advancement, peace workers, international law, biodiversity and etc. Further, the participants access a large network of institutions at international and regional levels in order to learn, and direct their own initiatives and projects.
To make the workshop all the more effective and productive, TFT is planned in two stages.
Stage one is the one-week residential training workshop facilitated by an international panel of resource persons through lectures, simulations, team exercises and field practical sessions based on various topics such as social media advocacy, conflict transformation, and cross cultural understanding.Stage two is Project Implementation.
This is carried out during the next one to nine months. Projects thus concluded are then communicated to the next batch of the TFT, through a process called 'inspired to inspire.' This is what Rona Inayat from Afghanistan has in mind. The topic of Waste Management which was addressed at the workshop greatly inspired this young graduate in Business Administration.
"I want to go back to Afghanistan and create awareness," says Rona who feels that it is an important issue that needs addressing back home. Currently employed at the Afghanistan Youth Capacity Building Organization, Rona is also studying Medicine.
Marzia Rustami, a law student and Programme Manager for Women and Youths for Peace and Development Organization was appreciative of the fact that the workshop brings together youths from different cultures and countries."There is a lot of diversity and we were able to learn unity," says Marzia. The conversation comes to an end as the two girls rush off to get ready for the cultural evening.
The cultural evening of the TFT workshop looked to highlight the richness and diversity of various cultures and was further enlivened by the performances of Differently Abled children, which added a social responsibility dimension to the evening, especially as they were warmly applauded by the participants.
he final evening, is generally celebrated with a farewell bonfire which is facilitated by the President's Scouts and Girl Guides. It is evidently not all work and no play for the participants. While they work hard, they managed to squeeze in a good measure of fun and enjoyment too! And so we leave them enjoying a tea break munching on delicious 'vadais' while snapping photos of each other and the picturesque mountain view of Kegalle as the sun set.