"Wapiche Marikar, my great-great grandfather is the one who inspired me the most," says Ayesha Abdur-Rahman pointing to an old framed photograph of a handsome man. "He was the builder in our family of Ceylon Moors and helped in the building of the National Museum of Sri Lanka. As a child, I remember my parents taking me to the National Museum and showing me a big plaque that identified my [great-great] grandfather and a Mr. Perera as the contractors of the National Museum. When asked what he wanted for the Museum at the time, being the devout Muslim he was Wapiche Marikar said that he would like the Museum to be closed on Fridays. And I hear since very recently it was," Ayesha says.
Ayesha Abdur-Rahaman, nee Ayesha Mohideen is a decorative arts historian and the founding director of Lanka Decorative Arts, a society for the study and appreciation of the decorative arts of Sri Lanka. Also known as the Minor Arts or Applied Arts, the Decorative Arts is a term widely used to cover varied categories such as furniture, metalwork, ceramic, pottery, glass, textile, costume, jewellery, musical instruments, tools, toys, transport, folk art, woodwork, ivory, horn, bone, and other miscellaneous categories.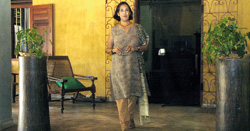 Refurbished ancestral home: Ayesha's (seen in picture) historical connection to her family.
Pic by Saman Kariyawasam
"I wanted to start an interest group of like-minded people who would participate and attend lectures and workshops for discussion, and dissemination of various aspects of the decorative arts of the island, from all historical periods," explains Ayesha. Decorative arts is not an isolated study, she adds, rather an interdisciplinary study that brings together various disciplines and draws from art and art history, history, social history, material culture, design and design history, archaeology, anthropology and architecture.
After her school days at Bishop's College, Colombo, Ayesha left for New York at the age of 19 and completing her BA in Dress and Textiles at the Central St. Martin's College of Art and Design in London, became the first Sri Lankan tour guide at the United Nations office in New York. It is here at the age of 23 that she met her husband, Puerto Rican artist Rashid Abdur-Rahman. Her son Razi was born in New York. In 1973 Ayesha and her family came to Sri Lanka, where her daughter Kadeja was born. She was one of the first Sri Lankans to open up a designer clothing store based on Sri Lankan textiles in the island. "But we were ahead of the curve. Way ahead. There were 100% cotton clothing, raw material garments, sarongs designed by me on sale. But people here had not begun to appreciate it just yet. We did have clients from a lot of the Embassies. But people would come in and ask for polyester and that sort of thing which we didn't have," Ayesha recalls.
In 1978 Ayesha went back to Puerto Rico and lived there till 1994. Once her children were older and began attending college, Ayesha began studying, for her Master's in the History of Decorative Arts, Design and Culture. Having completed her MA at the Brad Graduate Centre, Brad College in New York, she later worked as Associate Curator of the Visual Media Resources at the Brad Graduate Centre and as a curatorial intern in the Brooklyn Museum of Art.
Ayesha explains that it was during her master's that she first encountered an arts and design background, which led her to study the decorative arts extensively. "I studied the decorative arts of China, Korea, Greece, Rome, the Middle East, Africa and so many other traditions. My interest heightened because the master's programme opened up a lot of connections and gave me a lot of exposure into the International Arts community." This period in her life became significant not only because of her studies in the field of decorative arts, but also because of the other factors that took place at the time. "During my MA my dad passed away, which was very sad for me. In his will he left the Mulberry House (the family's ancestral home) to me. I felt honoured and the house became all the more special. So after my husband retired we returned to Sri Lanka and spent an entire year restoring it. I thought that with the little inheritance I got I will give back and this house became the historical connection to my family. I became the collector of all that is here today."
It was also during this period in time that Ayesha founded the LDA (Lanka Decorative Arts).
In 2008 she organized the first international workshop on the Decorative Arts of Sri Lanka. "At the time I was researching the Sri Lankan Decorative Arts and collecting digital images for a web archive. The American Institute for Sri Lankan Studies sponsored some research for me and so funded the symposium to a great extent," adds Ayesha. "For the first symposium I got down three international speakers. I really wanted the global scholars of art to come down and see what we had here in Sri Lanka and take it to the rest of the world."
Ayesha held the Decorative Arts Symposium for the second time in 2009. "This time there was no funding. The responsibility was solely on the LDA and still we continued the Decorative Arts Symposium by ourselves. But it was not mainly speakers of the subject in discussion. We conducted a lot of study tours relevant to the history of the decorative arts of Sri Lanka like visiting sites for Dutch architecture."
This year's Decorative Arts of Sri Lanka symposium was titled 'The Interconnected World of Eurasia' and was held on August 24, 25, and 26 at the Galle Face Hotel and the American Center for Sri Lanka. The symposium consisted of sessions, panel discussions and study tours in the Colombo area, all focusing on the rich decorative arts of the country.
Ayesha is pleased with the progress and the response to the event and plans to hold a symposium on the decorative arts of Sri Lanka every two years. "My friend and coordinator Deshika Van Haght, academic advisor Dr. SinhaRaja Tammita-Delgoda, my husband Rashid and all the other board members helped me out so much. I couldn't have done it without them. But we realized that we need more support and funding and would love any help we can get. You can join LDA as friends of the Lanka Decorative Arts and contribute through funding, sponsorships, annual donations, volunteer work or in any other way," she says.
Ayesha is currently completing her PhD at the University of Kelaniya and her dissertation research focuses on the evolution of Sri Lankan furniture.
For more information on the Lanka Decorative Arts please visit lankadecorativearts.org or email lankadecorativearts@gmail.com.