Indian and Oriental influences have long infiltrated European cuisine, their own culinary traditions sophisticated by European techniques. Now, Sri Lankan Nouvelle Cuisine has emerged.
Award-winning chefs unveil their uniquely Lankan interpretations.
Chef Rohan Fernandopulle
(Executive Chef, Hilton Colombo)
He partakes of the ultra exclusive Club des Chefs des Chefs and this month Bocuse d'Or, one of France's most prestigious gastronomic institutions, elected Chef R President of the Sri Lankan National Organisation Committee- he will be culling and crafting local chefs for grand Bocuse d'Or international competitions.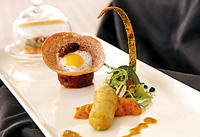 Modern Sri Lankan appetiser
Perhaps the French heard Chef R gives Sri Lankan cuisine a French touch, or maybe the Midas touch, for he devises menus that inevitably fetch gold at culinary shows. Most recently, Mr Gold Finger's 5-course New Sri Lankan Cuisine extracted Top-Gold from international jurors at Culinary Art 2011.
Reviewing most Colombo restaurants I think, "This is good by Sri Lankan standards." Hilton Colombo, however, lends itself to international, that too Michelin-star, calibration. Told this, my brother, with whom I've reviewed some of the world's most renowned three-Michelin-starred restaurants, was sceptical. So I request he fly over for Chef Rohan's gold-winning gastronomic gala.
The stage is set for high drama. First characters on the scene: Baby zucchini in piquant curry leaf pesto with a snappy mangosteen & rambutan chutney. Theatrical presentations. Scene I's cynosure, impossibly satiny curried bean curd sausage, sits pat on pickled pumpkin relish in an embroidery of mango & palm heart salsa. A demure miniature quails egg hopper is courted by seeni sambol and brinjal moju. This dainty delicacy also got gold at Food & Hotel Asia Awards 2010 in Singapore.
Scene II of our gourmet play is a show-stopping Ceylonese Hot Pot infused with cinnamon tea poured from a comely translucent tea pot. If the first course extorted my brother's applause, this bouillabaisse has him bowing before vegetables cooked to precision, delicately nuanced flavours and spices plentifully deployed without aggressing the palate.
A palate-cleansing interlude of exotic fresh guava sorbet, the very "pink of perfection," as Shakespeare would say, heralds climactic Scene III starring black curried soya pie on a terrific velvet of taro mash. Assuming centre stage, the flakiest papadam curves acrobatically over snake gourd. Thibbatu and jak fruit seed on cabbage make for props. The action intensifies around spinach & dhal roulade engaging with a livid curry sauce, whilst mushroom thermidor perfumed in turmeric and coriander mediates with sobriety. But supple, subtle ghee-olu rice steals the show.
The penultimate scene presents strikingly potted mangosteen panna cotta, silken like Shakespeare's poetry, encrusted with coconut & cashew crumble and finished in sumptuous waraka and coconut ice cream. Flamed caramelised fruit skewer in headily spiced rum and roasted desiccated coconut plays a supporting role. What play of delicate but complex flavours, textures unanticipated in Colombo (even at the Hilton), and a work of extreme creativity. Perfect 10/10! We are reminded of vérines in Paris by Pierre Hermé, oft considered the world's best pastry chef. So engrossed are we in scooping out residual smears, we don't notice Chef R has loomed up behind us. In sheepish embarrassment we excuse this indelicacy pleading it villainous to waste a mere smattering.
After heroic yara tea and Lankan petit fours (tremendous thala toffee) the curtains fall on our most dramatic dinner in Colombo. Clever, sheer art. I'm about to detonate in more eulogies, but Chef R absconds, projecting Chefs Raja Selvanayagam and Kumarasiri Rohana whose execution of his menu at Culinary Art saw them wreathed in gold.
We felicitate the chefs on their craft. But Chef Raja looks almost bored as he declares, "We won gold in this category last year too." One hears these innovations are generally imitated by competitors. With tragic consequences, for Colombo's chefs generally haven't grasped the nouvelle cuisine concept. Alas, most rarely cut international mustard.
Implementing indigenous produce in newfangled recipes is global gastro vogue. However, rashly adventurous creations, even at famed Michelin-starred restaurants, seem gratuitous and are as unpalatable as outlandish designs on catwalks are unwearable. Therefore, we appreciate that Chef R's contemporised Sri Lankan constructs challenge preconceptions without sacrificing sapidity. As he exploits his training in Michelin-starred restaurants and new responsibilities, we await further rarefaction of textures. I ask my brother if the just-concluded meal merits a Michelin star. He replies, "No. Maybe two..."
Chef Buddhika (Head Chef, Spoons)
His interpretation of nouvelle cuisine is French fare with Pan-Asian flashes. What's Sri Lankan about it? Well, here's a Sri Lankan chef with mastery over European and Oriental cooking styles. Chef B strings together his international award-winners into a glittering 9-course necklace. The first course, Burst of Camembert, is strictly French. However, award-winning sommelier Ian pairs it with a rosé (Borsao). In France, cheese with rosé is almost blasphemous, Spanish rosé at that. Nevertheless, this experiment avails itself well.
Other fascinating facets of Chef B's menu include vanilla-scented vegetables encircled in onion purée. My brother and I regard the dish comprising carrots, onions and vanilla suspiciously, but any feared sugary excess is slain with the connivance of an oriental rice cracker.
The sweetness of the next course, pea pureé, is moderated by a placid pakchoy dim sum and the unction of hazelnut oil. Tea sorbet, which precedes the main course, is such a marvel I nearly tell chef to abort subsequent courses and substitute six scoops of sorbet. But then we wouldn't have discovered certain interesting aspects of composite dessert courses including amerina ice truffle and Bailey's mousse par excellence. No sugared explosion this. With just the right quantum of Bailey's, it is inexpressibly smooth- like Chef B himself.
Chef Karu (Head Chef, Curry Leaf)
Should highfalutin gastronomy leave you in bewilderment, initiate yourself with a gentler interpretation by the King of the Curry. Supplementing his enormously popular Sri Lankan buffet, Chef Karu always brings me "a little something special," usually Italian or Chinese dishes imparted a Lankan quirk. Think absolutely al dente pasta in cream dynamite with curry leaves, chillies and spices. Chef K performs variations on the theme, depending on his humour. He also transforms Chinese-style fried seafood, mushrooms, corn balls and noodles using local ingredients and is soon going French with curried canapés. His creations aren't trying to be clever but express a profound feel for food translated in the yummiest cuisine.
The writer is a freelance travel writer who has contributed to international magazines and newspapers including Tatler, Conde Nast Traveller, Harper's Bazaar, Wallpaper, Elle, The Telegraph, The Evening Standard and The Independent.