He won the Best Actor award at the Singapore International Film Festival in 1999 for "the simplicity and maturity of his performance as the role of a blind man whose nobility and honour transcends the depth of his personal sorrow." That was Joe Abeywickrema in 'Purahanda Kaluwara' – Prasanna Vithanage's powerful award-winning cinematic creation.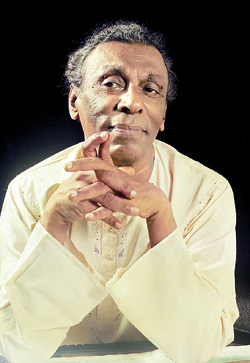 Joe: As he was Pic by Mettasena
Not many will disagree that Joe who died on Wednesday at the age of 84, was the best character actor Sri Lanka has produced. Joe did not act. He just lived the character of Wannihamy, the innocent but astute Dry Zone villager who could not be bought. As Wannihamy, he was the genuine article, a decent human being. He was just that in his real life as well. We admired his simplicity, his friendliness, his sincerity, his kindness.
Joe suffered from a serious eye ailment for many years. Yet he played his roles without showing any disability. It was only a few weeks ago that Hector Kumarasiri directing 'Abinikmana' - a film produced to commemorate the 2600th Sambuddhatva Jayanthi, remarked how, in spite of his difficulty, Joe was giving one hundred percent to the role of an aging father of a monk. Once on the set, he was the versatile actor that he always was over the past five and a half decades.
Joe began acting in 1957 (he started with 'Saradam') and in a career that spanned over 50 years, appeared in hundreds of films, becoming a household name in the country. He won numerous awards. It is seldom mentioned that he has also at least two English films to his credit – 'The three yellow cats' ((1967) and 'Peter of the elephants, according to Nuwan Nayanajith Kumara's 'Sri Lankan Film Chronicle'.
Visiting him at his Pagoda Road, Nugegoda home some years ago, I remember how though his sight was virtually gone, the moment I told him who I was, he was all smiles and started recollecting the days when I had written about him in the Sunday Observer's 'In Focus' column. That was in the late 1960s. 'Joe – what a character' was the headline used by Eustace Rulach for a feature I had done on Joe's stunning performance as Gorin Mudalali in 'Weli Katara' (the name was changed from 'Maru Katara'). That was maestro D.B. Nihalsingha's epic film – the first full-length cinemascope film in Sinhala. Nihalsingha had picked the most talked-about actors of the day – Gamini Fonseka and Joe Abeywickrema for the two key roles. While Gamini was out to uphold the law as a police officer, Joe was on the wrong side of the law.
Here Joe had to take on a role completely in contrast with his previous ones. It was a challenge, but Nihalsingha was confident that Joe would deliver. And he did. It was difficult because Gorin Mudalali was a twin personality –a ruthless racketeer when it came to making money and escaping the law, yet very humane and kind – a man with a big heart. Nihalsingha had given him the big break of playing the villain but not in the traditional sense. In a way, it was the first non-comedy role Joe undertook – "the most challenging role I have played up to date"- is what Joe told me then.
By that time Joe had virtually completed a decade in films. Another memorable portrayal by then was Tissa Liyanasuriya's 'Saravita' where as Saaraiya, the betel seller he shone in a light but convincing role, picking up a Sarasaviya Best Actor award. Earlier, he played not-so-serious roles in 'Ranmuthu Duwa' and 'Getawarayo' along with Gamini Fonseka.
Joe was picked for the 'Most Outstanding Performance of the Year' awarded by the Film Critics and Journalists Association for the role he played in Senator Reggie Perera's 'Sadol Kandulu' (1967) as a dumb servant.
He continued to be increasingly sought-after, a box-office attraction. From the humorous roles that directors wanted him to play, Joe gradually moved on to more serious parts. Significantly most of the films he acted in that era featured both Joe and Gamini, the idol of the silver screen. Among what could be termed as "better" films at the time were K.A.W. Perera's ' 'Senasuma Kothanada', G. D. L. Perera's 'Dahasak Sithuvili' and Gamini's own 'Parasathu Mal'. While he averaged six to seven films in a year, in 1969 a record eleven films with Joe were released.
Loku Mama in Mahagama Sekera's 'Tung mang handiya' as a born artist in the village, Joe once described as a character he loved. It brought back memories for him of his schooldays in his village at Lollupitiya near Ratnapura, where he was born and bred.
It took quite a while for Lester James Peries to pick Joe for one of his films. That was in 'Desa Nisa' where he played Nirudaka – the ugly man hounded by the villagers whose mother believed he was the most handsome young man in the village. Commenting on Joe's acting in 'Desa Nisa' Lester wrote:"Some of the loveliest scenes were those between the mother and the son where the mother constantly says how she cannot understand, despite marriage brokers, why no girl is willing to marry him. Joe was so good a natural comic actor that every time he played those scenes he didn't have to act. As you know in most cases our actors overplay the comedy.
They emphasise and are very theatrical. I think the situations were also such that all he had to do was to play beast and not the man. And it just came off." - Lester by Lester. How well Lester summed up Joe's talent. Later, Joe played Silindu in 'Beddegama' (Village in the Jungle), and readers will perhaps recall him instantly in Sunil Ariyaratne's 'Siribo Aiya' or Dharmasena Pathiraja's 'Soldadu Unnehe' –both signal achievements.
Seen in several teledramas, these past years, his recent appearance in a TV commercial even though for a few seconds is hard to forget – again he relived the character of an aging villager.
Joe has departed. It has been a long journey. Just as much as we will continue to remember Gorin Mudalali and Wannihamy, we will also remember his simple ways and human qualities.