Ronald Reagan was in the White House when he wrote to the nation informing them that he had been diagnosed with Alzheimer's disease. Four years ago, satirical fantasy author, Terry Pratchett was diagnosed with early-onset Alzheimer's and he continues to publish books. As the disease becomes alarmingly common, millions across the world, suffer from the brain-degenerating disease.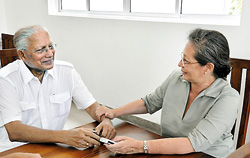 Tami and Lorraine: Their efforts have borne fruit and (inset) the recently opened building. Pix by Susantha Liyanawatte
The World Health Organisation rounds up the number at 18 million cases of Alzheimer's worldwide; and expects it to double by 2025. With greater numbers of patients being from developing countries and inadequate research being carried out in these locations, little can be done to inhibit the rapid increase.
Tami Tamitegama, a philanthropist who has dedicated the past 10 years to helping those affected by Alzheimer's in Sri Lanka ably supported by his wife Lorraine this week marked another milestone in their campaign. Over the past decade they have put all that they could to building the Alzheimer's Foundation. The spacious building was opened on Wednesday, World Alzheimer's Day at Maradana and is now fully functional.
Retarding the degeneration of the brain of those who suffer from Alzheimer's is what Tami and Lorrain are focussing their efforts on. One of the uses of the facility is for patients in the early and moderate stages of Alzheimer's and dementia, to be given the opportunity to socialise, relax and indulge in activities that will up lift their spirits.
The building has numerous other uses - diagnostic and memory testing services, family counselling on coping with dementia, individual pre-counselling on issues relating to dementia, dementia care-related certified training for health care professionals, professional carers, family carers and other community service groups, as well as lecture presentations on risk reduction, prevention of dementia and health and a charity shop 'Memories'.
Alzheimer's comes under the umbrella of dementia but the Alzheimer's Foundation is for patients diagnosed with any form of dementia. Explaining why the organisation is called the 'Alzheimer's Foundation' Lorraine says, "we are known as the Alzheimer's Foundation because we don't call ourselves the dementia foundation. It's negative. There's a social stigma attached to it. Plus because it's a common form of dementia all the members of the 77 countries are known as Alzheimer's Foundation. We support people who suffer from any form of dementia- caused by stroke, Parkinson's, alcohol-related dementia; there are over a 100 different brain disorders."
That said Alzheimer's is no longer a disease connected to old age according to the World Health Organisation. People as young as 40 have been diagnosed with the incurable but controllable disease and Tami says Sri Lanka is ill prepared to handle the escalating number of patients. "We have very limited resources," elaborates Tami, "we don't have the professional medical support for elders because we don't have a geriatrician or psycho-geriatrician- home grown in Sri Lanka. That's a significant fact. The amount of money set aside for dementia is at the moment- zero."
Staunchly dedicated to the cause since 2001, Tami and Lorraine have put so much of themselves into the cause. Full of emotion Lorrain recalls how they began, "We started in our home." The homey feel will transcend into the new building as well, and helping it along Lorraine has personalised the decor with paintings from her home.
With all that the Alzheimer's Foundation has to offer, there might be some hope in changing the bleak statistics of dementia in Sri Lanka.
The Lanka Alzheimer's
Foundation is at 10,
Ketawalamulla Lane,
Maligakanda,
Colombo 10.Tel: 2667080