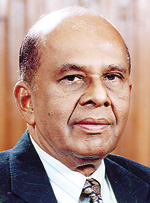 If anyone had walked into the lobby of the National Savings Bank, Head Office around 8 a.m. on a working day during the period September 1994 to March 2002, he / she would not have missed a middle-aged person waiting in the queue for his turn to enter the lift. Clad in trouser, long sleeved shirt and tie, well-built, slightly balding with a pleasant demeanor, he stood in the queue among peons, clerks, executives, and senior managers to go to his room to start the day's work. No one would have ever thought that he was the Chairman of NSB waiting for his turn to enter the lift because it is unthinkable that a Chairman of a bank would stand in a queue to get into the lift.
And that was Deshamanya Cyril Herath!
Cyril Herath departed from this world on September 8. I first came to know Mr. Herath when he was DIG, North Western Province. That was in the late 70s and I was the District Manager, Bank of Ceylon, Kurunegala District. I had only a casual acquaintance with him at that time.
It was when I was appointed as the General Manager of National Savings Bank (NSB) in 1996 that I came into close contact with him. The primary consideration that influenced me to accept the stewardship of NSB was the fact that Mr. Herath was its Chairman. By then I had heard of Mr. Herath's reputation as a person of strong character, highest integrity, and one who never compromised his principles. I knew about the supreme sacrifice he made by resigning as IGP on a matter of principle when he had about five more years to serve. So I thought what a privilege it would be to work under such a person.
I would like to say very emphatically that if not for the strong, effective and enlightened leadership displayed by Mr. Herath, NSB would never have been the profitable, progressive, and market oriented bank that it is today. It is the good fortune of NSB, its staff, as well as the nation that he was appointed to this exalted position at a critical time in the annals of the bank. This was the time NSB was taking a beating from the World Bank and there was pressure on the government for it to be privatized. The future of the bank was at stake. Only a few people in the financial circles know what the World Bank prescribed for NSB. Since I was the General Manager at that time I was privy to the under - currents, manoeuvres and the immense pressure from the World Bank to privatize the NSB under the guise of Financial Reforms.
The World Bank report said that there was no rationale for continuing the operations of NSB and therefore the bulk of its branches should be sold by auction to private and foreign banks. We, together with the unions, vehemently opposed this move. The management, staff, and the Ceylon Bank Employees Union were furious because this recommendation was an insult to them. Because of our resistance and as the authorities could not counter the arguments against privatization they, presumably at the behest of the World Bank, followed a strategy of indirectly and tacitly breaking our back bone. The tax concessions granted to the people depositing with NSB and the interest subsidy granted by the Treasury were withdrawn. And the authorities went to the extent of tacitly ordering us not to give publicity to the fact that NSB deposits were guaranteed by the government. I mention all these because it is in the context of this scenario that Mr. Herath's role as chairman and his contribution to NSB need to be evaluated.
I was with Mr. Herath for over five years during his two stints as Chairman. It was the most rewarding, productive, and memorable period in my banking career. It gave me immense pleasure, satisfaction and pride to work under a great leader of the calibre of Mr. Herath. People of Sri Lanka, the government and the staff of NSB should be eternally grateful for the contribution he made to NSB and indirectly to the national effort. I recall what a top banker told me in a casual conversation – referring to Mr. Herath he said ' How can a policeman run a bank?" – his very words! I told him he didn't have to do anything but the fact that Cyril Herath was the Chairman was enough and would make the difference. It is not banking knowledge or expertise that is necessary to lead an institution. What an organization needs, particularly in a time of crisis and a time of change is strong, effective, inspiring and enlightened leadership; in addition probably intelligence and commonsense. At NSB this was what he provided. I, Eastman Narangoda (presently Chairman of Seylan Bank) and our management team only provided banking knowledge and operational support. Mr. Herath provided the rarest and the most crucial ingredient – Leadership!
Apart from the right leadership Mr. Herath provided, the most important role he played was to act as a buffer against political interference. This is a vital factor in a state organization. Political interference, as all of us know, has a debilitating and a frustrating effect on organizations. Part of NSB's problem at the time Mr. Herath was appointed as Chairman was politics – external as well as internal. Staff had undergone victimization and hardships due to unreasonable transfers, unfair promotions, punishments and so on; the morale was low. But all that was changed by Mr. Herath. NSB at his time was free of politics. Because of his strong personality and reputation, politicians were wary of interfering. But those who did, he handled them very tactfully without offending them. Fairness and impartiality were the cornerstones of his management style. This factor motivated the staff who were hitherto harassed due to political interference. And our top management team and the staff were able to work, show exceptional performance, innovate and compete with other banks.
Out of the numerous incidents relating to his leadership qualities I would like to mention one incident. At the annual staff get together of NSB the tradition had been to serve the Chairman, Directors and the top management with special food and drinks superior in quality to what was served to the other staff. When Mr. Herath noticed this he instructed that at all future parties everyone should be served the same food and drinks and that there should not be special treatment to the Chairman and the top management. At these parties he made it a point to mix with the rank and file freely, engage in banter; and ended up joining the staff on the dance floor along with Mrs. Herath.
To have known him and worked under him has been a privilege and a blessing. My association with him enhanced my reputation and changed my life. I know that the life of his beloved wife Mrs. Ranee Herath, sons, Arjuna, Sanjaya, Dishan and daughter Priyanthika will not be the same without him. While I offer my heartfelt condolences to them, they can take comfort from the fact that Mr. Herath was an extremely rare human being who served the country with distinction and without compromising his principles. I am sure they will emulate the noble qualities he displayed while he was alive.
I am grateful to you Sir, for your affection, the lessons I learnt from you and for making a difference to my life. Goodbye Sir, until we meet again during our sojourn in Samsara.
N.B.S.B. Balalle
---
An amiable bachelor who led a simple life
Sidath Sri Nandalochana
Sidath Sri Nandalochana who passed away a few days ago was the younger brother of Sampath Sri Nandalochana. They were both Thomians of the 1940's schooled during the Canon De Saram era. Sidath Nandalochana did well with books, sports and literary activities of the school.
Whilst at College, he played cricket, tennis and was an outstanding Shakespearian dramatist. Years later, he followed the footsteps of his late father, D.N.W. De Silva, to take an abiding interest in the activities of the Colombo YMBA during the stewardship of Messrs Piyasena and Eric Amerasinghe P.C., both Presidents of that Association.
Sidath was responsible for conducting the annual Buddhist Drama Festival, based on Jathaka Stories which activity at the YMBA, became a popular event. As a successful civil lawyer Sidath was a man of principles, and was known to be concerned about the poverty of his litigants, who often had to endure long drawn out trials due to the weakness of the Judicial administration.
Being a Buddhist, he understood well the realities of life. Human defilement referred in Buddhism namely, Lobha, Dhosa, Moha, were not with him. He had an outlook to lead a simple life. This amiable bachelor was often the unostentatious benefactor of several deserving charities. He will be remembered by a wide circle of old Thomians, those of the Law Courts fraternity and members of his Club.
May his journey in samsara be short and pleasant.
Upali K. Salgado
---
May the good memories replace the difficult ones
Narges Nalliah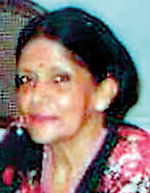 Gratitude, as has been said, is the memory of the heart. So many of our friends and relations, kindly joined us at the Service held on Friday July 22, at my residence on the day of the funeral of my darling sister Narges Nalliah in Brisbane Australia and Fr. Sydney Knight most kindly consented to officiate at the Service.
Something that has always puzzled me all my life is why, when I am in special need of help, there are good deeds usually done by people , on whom I have no claim. Thank you much more, than a greeting can say, because you were thoughtful in such a nice way. A little prayer in this appreciation would, I believe be not out of place.
Lord, we pray for Arjan, Raj and Chloe and their extended families and all the friends of Narges, and ask you to be close to us all in our grief. May the night time of our tears run to the joy of morning, as difficult memories fade and good memories take their place. Thank you God, for Narges' life and the way she touched our lives.
Stella, Anusha and I are grateful for the patience and understanding of all those who would pray for Narges, recognizing that they too, are mourning her death. May her memory live in all of us for ever.
Nesie Nalliah

---
He did much towards developing ties between Sri Lanka and Japan
IAN DIAS ABEYSINGHE
Ian Dias Abeysinghe, founder President of the Japan Sri Lanka Technical & Cultural Association (JASTECA) passed away at the age of 71 years most unexpectedly three months ago. Our dear friend Ian's demise was a great loss to all of us having Japanese connections such as JASTECA and the Sasakawa Trust.
Ian took a unique stand and great leadership in establishing JASTECA in February 1984 at the request of the Association for Overseas Technical Scholarship (AOTS) Japan which was headed by the former President, Nagaaki Yamamoto who was a great friend of Sri Lanka. At the time of establishment of JASTECA we did not even have an office to hold meetings, so much so that the initial Executive Committee meetings were at his Campbell Place residence. I joined the JASTECA Ex-Co as Asst. Secretary, but shortly afterwards was compelled by my dear friend Ian to take over the position of General Secretary.
At that time we had several Ex-Co members who were committed to carrying out voluntary work in the fields of human resource development and transference of technology linked up with AOTS Japan. Mr. Yamamoto who was then President visited Sri Lanka several times and met past Presidents and Prime Ministers to get their blessings to contribute towards the development of Sri Lanka. Ian was on the Directorate of Browns Battery Division and while working very hard and efficiently at Brown and Co, used his spare time especially in the evenings to ensure the quick growth of JASTECA. He carried out several training programmes annually in Sri Lanka in improving industries like the apparel industry and others by getting down experts from Japan with the strong support of AOTS Japan.
In the formative days of JASTECA, he also took the initiative to visit several large companies in promoting membership for JASTECA. Subsequently with a large donation from Ryoichi Sasakawa, Chairman of the Nippon Foundation, a Cultural Centre was established in Colombo 3 with the formation of the Sasakawa Trust with three constituent organizations namely Lanka Japan Friendship Society, JASTECA and JICA Alumni Association headed by Dr. P. R. Anthonis. Ian was a Founder Trustee of this Board who made a notable impact in its growth.
I can recall Ian informing me that he first went for a training in Japan when employed at Associated Motorways under Sir Cyril de Zoysa in the Battery Division and subsequently became a member of the Asia Cultural Association. Ever since then he contributed immensely towards the growth of JASTECA. Out of 70 alumni societies in 43 countries, on an evaluation made by AOTS Japan, JASTECA has been rated as the best.
This achievement was made at the beginning itself under the able leadership of Ian.
The Japanese Government in recognition of establishing such an excellent and close friendly relationship between Sri Lanka and Japan conferred on him the unique decoration of the 'Order of the Rising Sun, Gold and Silver Rays'. Indeed there are only a handful of Sri Lankans who have achieved this distinction. This itself shows the tremendous dedication and hard work Ian put in for the promotion of friendly relations between Sri Lanka and Japan. Thanks to his effort we have many success stories due to the implementation of Japanese style of management in Sri Lankan organizations.
Our dear friend Ian will be always remembered for his dedication and commitment. May his soul rest in peace!
Lal de Alwis
---
The music will play on just for you
Darlan Perera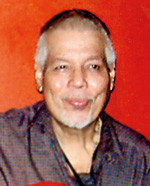 I got to know the country singer and all round musician par excellence Darlon around ten years back. Since I too am a singer, we got on very well and became close pals. We sang at gatherings, functions, home parties, etc. We did stints at the German Restaurant at Galle Face and at the Colombo Swimming Club where I presently work.
My sister and family overseas got to know him very well, when he entertained them all on his guitar with all his top class renditions of the oldies. In 2006 we went to Hikkaduwa taking our famous guitarist along to liven up our holiday. I also had the pleasure to sing at two 'Country Roads' show with him.
We used to call each other practically daily and talk about life, sharing a couple of jokes .
Last year Darlan came down with a nagging persistent cough that forced him to even skip my b'day in April.
He was advised to go to Ragama Hospital for a check up. After being in and out of hospital he was sadly diagnosed with lung cancer. Just five days before his passing away on 16, last year, he joined us all for the "Fab Beatles show".
Since he was unwell I draped my jacket around his shoulders, but he was trembling due to the air-conditioning. He left half way through the concert. He was admitted to the Maharagama Hospital, a couple of days later and his daughter broke the sad news of his passing away, on September 20.
He left behind his wife,two daughters, son and grand children. He was my best friend and mentor in music. I miss you dear Darlon my dear friend. Till we meet again. Let the music – play on – like you always said –"ACHA".
Johnny Heyn