We write this letter with deep concern for Sri Lanka's environment. Our nation has an unparalleled, recorded history of Protection and Conservation dating back to Arahat Mahinda's discourse with King Devanampiyatissa on killing a deer. A precedent was then set and it is now our heritage and responsibility to conserve our Protected Areas and our abundantly diverse but fragile 'Bio Diversity'.
Further, the Government of Sri Lanka expressly declares the intention to promote eco-tourism in the country. However, as several projects have recently received approval to proceed within Protected Areas or are ecologically sensitive, there is a clear contradiction of the ''Mahinda Chintanaya's' vision of 'Sustainable Development'.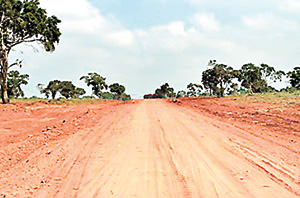 Wilpattu: One of the controversial roads being constructed last year. File pic
'Sustainable Development' is development that can be sustained without degrading the existing environment. Therefore, any 'development' project that is within a designated Protected Area cannot be sustained. While development is essential for any nation it cannot be at the expense of areas designated for Protection and Conservation!
Given below are some of the more serious recent violations:
nJanuary 2010 - Wilpattu - the cutting of two new public roads through the National Park (NP) [under litigation from Environmental groups].
n July 2011 –Encroachment Of the Somawathiya NP by 'Letsgrow', the local partner of Dole Foods International Inc. (The largest food producer and a US multi national). It is estimated that this foreign company has cleared several thousand acres of State land within Protected Areas in violation of the Fauna and Flora Protection Ordinance
n June 2011 -Chunnakkadu Reserve, Kantale- 15,000 Acres cleared by 'Letsgrow', the local partner of Dole FoodsInternational Inc. (The largest food producer and a US multi national). - Area proposed as a Wild life heritage site due to its rich bio diversity.
n June 2011 – Sinharaja Road Construction within the LRC forest and scrubland adjacent to the Sinharaja forest, a UNESCO World Heritage Site. The Forest Department had previously requested the LRC to handover this land for annexation to the Sinharaja.
n 2009 – Moragahakandha & Kalu Ganga Irrigation Scheme – This scheme had been abandoned by several previous governments due to its immense environmental impact. This project has encroached on the Elahera Elephant Corridor that was vital in this high HEC zone and the western border of Wasgamuwa National Park has been designated for resettlement of communities from lands that will be inundated. [Under litigation from Environmental groups].
n Golf Course adjacent to Uda Walawe National Park and within the proposed Samanalawewa / Bogahapattiya Reserve. This area has been identified for protection due to its bio diversity and, is an essential habitat for the seasonal movement of elephants from Uda Walawe National Park. Destruction of this habitat has already commenced prior to any approvals being granted.
n Additionally, uncontrolled sand mining, logging and gem mining in reserves and Protected Areas nationwide, is rampant and is conducted blatantly.
These projects that benefit a select few, violate our laws. These developments are not sustainable, will have consequences on our natural resources, particularly weather patterns and water, water retention, water sheds etc. impacting the viability and quality of life of future generations. Furthermore, the very marketability of Sri Lanka as an'Eco Hot Spot' with 'Rich Bio Diversity' will be lost, reducing our viability as a prime tourist destination and the economic gains therein.
We appeal to you in the interest of our nation's future:
1. To halt all 'development' projects within Protected Areas
2. To desist from permitting projects within Protected Areas in future.
3. To ensure the legality of all development projects.
4. To empower an agency and ensure that due process is followed (valid EIA approvals obtained) in the approval of all projects island wide.
5. To implement systems that encourage public debate and scrutiny in a transparent manner (Regular updates of projects seeking approval on your Ministry's websites)
Protected Areas belong to all the peoples of Sri Lanka and her unborn generations. We seek confirmation that you are shouldering the responsibility that you have undertaken as an elected representative of the people to protect our heritage and conserve these lands that are sacrosanct. We seek confirmation that you can confidently and honestly tell the citizens of Sri Lanka that you have executed your duty as the appointed custodians of the nation's Environment and Wildlife.
On behalf of all patriotic
citizens of Sri Lanka and her
unborn generations

---
What can an MP's daughter do about grease demons?
This is regarding the news item titled 'Take your daughter to Jaffna" (Café Spectator) about the grease demons scare. At the outset I would like to say that the grease demons are not at all mythical, but 100% true.
Mr. Saravanapavan is an MP for the Jaffna district. He brought to the notice of the President the agony caused to the people especially those in rural areas expecting him to intervene and stop this terrorism. Since the Army was seen in action protecting the 'demons' and since the 'demons' run into Army camps for protection, the MP was quite right in appealing to the President – all appeals made to the Police and Army chiefs failed.
What is the use of taking the daughter to Jaffna? Will she be able to control the grease demons? The cowardly action of the demons, attacking women, terrorizing people in the early hours of the morning, killing the dogs that bark at them, getting on top of the porches secretly and injuring the women and men could only be quelled by the law enforcement authorities and not by ordinary citizens like the daughter of the MP.
Kathir
Colombo 5

---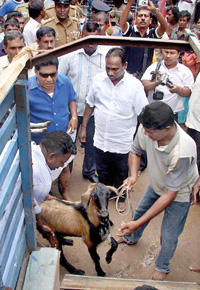 Mervyn Silva at the kovil last week
Animal sacrifice: What's justified and not
A pious resentment has arisen in respect of animal sacrifice at Hindu kovils, but ritual slaughter of animals do not take place at most kovils.
Stopping animal sacrifice on a Court injunction at the Munneswaram Temple is justified; a politician interfering with an army of provincial hooligans and donating the animals brought for sacrifice is not justifiable.
In the modern world, dominated by science and technology, should animal sacrifice be banned?
Kasi Silva
Via e mail