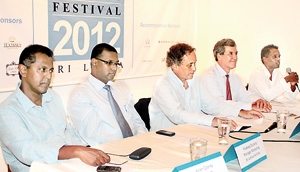 Wednesday's news conference to announce the event
Outdoing themselves yet again, the Galle Literary Festival organisers have a stellar line up of writers that is sure to impress literary enthusiasts. Sure to be one of the 2012 Festival's biggest draws is Richard Dawkins— the controversial writer who disputes the existence of God in his book 'The God Delusion'. Then there's best-selling British novelist Joanna Trollope whose stories of fraught relationships have earned her a dedicated following. They are among a diverse galaxy of writers from the US, UK, Palestine, India, Canada, Sierra Leone and Germany due for the fifth edition of the festival which will be held from January 18-22, 2012.
Also of much interest will be Dr. Izzeldin Abuelaish, winner of the Mahatma Gandhi Peace Award of Canada 2010 and a Nobel Peace Prize nominee. Dr. Abuelaish is a Palestinian medical doctor who was born and raised in a refugee camp. In January 2009, he lost three young daughters as the Israelis fired shells directly into their bedroom. He went on to write the award winning and inspiring memoir 'I Shall Not Hate: A Gaza Doctor's Journey'.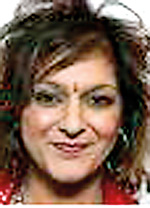 Meera Syal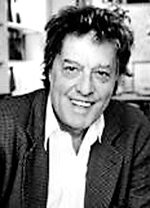 Tom Stoppard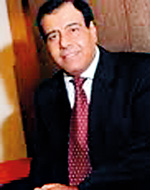 Dr. Izzeldin Abuelaish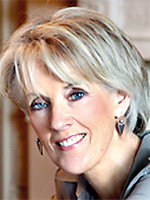 Joanna Trollope
To have written a first draft of a book in 2 ½ days and then gone on to sell five million copies, win numerous international awards and have the story made into a feature film is quite an achievement. That's the success story of John Boyne's 'The Boy in Striped Pyjamas'. Boyne will also be at the festival.
These apart, authors such as the critically acclaimed Katherine Frank, Aminatta Forna, 1993 Commonwealth Writer's prize winner Githa Hariharan, Kati Kitamura whose novel 'The Longshot' is currently being developed into to a feature film, bestselling author Simon Sebag Montefiore, DBC Pierre who won the Man Booker Prize and Whitbread First Novel Award in 2003, Nayantara Sahgal, Ingo Schulze, author and BBC television writer and presenter William Shawcross, Academy Award winning screenplay writer and playwright Tom Stoppard and Meera Syal are among the confirmed participants at the HSBC Galle Literary Festival 2012.
GLF has gone through a few core changes as well. HSBC- will be supporting the festival as the main sponsor and hence the festival will be known as the HSBC Galle Literary Festival. The festival will also have several fringe events and shows, the literary lunches and dinners, tea and poetry series, musical revues and readings that will appeal to non-bookworms as well.
HSBC CEO Sri Lanka and Maldives Nick A. Nicolaou expressed his delight at being able to partner with what he called a 'world class event'. Festival curator Shyam Selvadurai, Chairman of Jetwing Hotels Hiran Cooray, Sri Lankan Airlines Marketing Manager Pradeep Durairaj and GLF founder Geoffrey Dobbs also addressed the conference.
As in previous years, the Sunday Times is the print media sponsor of the festivel.