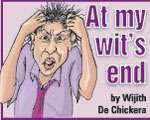 Well, dears, were you wondering where your friendly neighbourhood columnist had gone last week? He was – like the nefarious spy in Job 1:7 – going to and fro upon the earth, and walking up and down on it. Should you rashly assume that I have some great secret to share with you, however, you would be sadly mistaken. The only hot news I could serve up will barely tickle the fancy of palates sated on the gossip and rumour regularly dished out by weekly rags other than the one you are now holding in your hand…But, as the Good Lord repeatedly asked his right-hand-man, in Job 38 and 39: "Who knows?" There's no accounting for some tastes. So here, for your Sunday perusing pleasure, is some of what I spotted in the seven days or so gone by.
Walls
The New England poet Robert Frost once observed that good walls make good neighbours. He was the product of a milieu in which Westerners often mistake what is thine for what is mine. We Orientals take a more lenient view of property. And now that the walls are coming down in and around town, we can take a long and leisurely view of many properties that were once hidden away from common sight by high walls.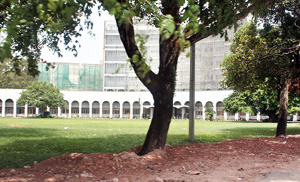 .... and the walls come tumbling down
Just last weekend, the Highlander and his wee lass, plus I and mine, were driving about the sunny side of suburbia; and we spotted idyllic scenes which would have made the poet Wordsworth's heart leap up and dance with glee.
Had he been with us in our rackety chariot, the abovementioned poet W. may well have chortled: "Ships, towers, domes, theatres and temples lie; Open unto the fields, and to the sky; All bright and glittering in the smokeless air." Never did the sun more beautifully shine on what we saw: racecourses, police stations, iconic old buildings, archives and architectural treasures, landmarks of a lovely capital – wall-less, soulful, delightful, embracing the openness, comfortable in peaceful resplendence. Now if only the Powers can stop erecting barriers between them and the rest of society, it would be "Paradise enow"…
Books
She Who Must Be Obeyed and I made tracks to the umpteenth Colombo Book Fair to brighten up September's scholarly face. The best bargains were in the crowded makeshift stalls outside the main exhibition halls. But it was in this hot and sweaty emporium that She and I discovered many of our joint hearts' delights – and at a steal, at that. Seven literary treasures for a tad over a thousand greenbacks had us smiling all the way to our domestic bookshelves. But our greatest joy was to see animal, mineral, and vegetable alike push politely and prod with aplomb their more sloth-toed browsers as dictionaries, encyclopaedias, commentaries and sundry volumes were tagged, thumbed through and turned over… and eventually taken home with the same joy that a childless couple adopts a baby, or a kid picks up a quarter-lifelong playmate from the dog pound or local pet shop.
Roads
I went on a jaunt with La Belle Dame Sans Merci to the seedier side of town, which is to say Colombo (POSTAL CODE DELETED BY CENSOR). If you are wondering what can ail me, a knight at arms alone and palely loitering in such a desolate spot, it was only this. That a road which had lain long neglected by the Powers That Be, causing much weeping and wailing and gnashing of teeth in outer darkness, which is to say Colombo (POSTAL CODE DELETED BY CENSOR), was now virtually a highway.
The issue was not that a motorable mini-parkway had sprung up where no such creature existed before, but the raison d'etre of such a driveway to paradise. For at the end of this veritable rainbow road, there is a fashionable pot, er house, of gold. It was to this virtual Mecca of Moolah that it was rumoured the high and mighty in the land would soon be congregating for the mother of all bashes. My lords, ladies, and gentlemen would be there, and so would the Mikado and the Lord High Poo-Bah. Ivory, apes, and peacocks about sums it up. Solomon in all his glory could not have eclipsed this do of the century.
The half has not been told you, dears, because La Belle Dame has sworn yours truly into a confidentiality clause of sorts. But you are under no such compulsion, and can make enquiries of your own and draw a conclusion. And if you were to come up against a blank wall (they may be coming down, but some matters are no less transparent in Paradise Isle), at least you can let your imagination run wild. It would pale in comparison to the goings-on in Swanky-town, where the other half lives.