Colombo is preparing for mega, back-to-back seminars by Asian Branding Guru Martin Roll. Organisers said the Martin Roll Seminars to be held in Colombo on March 22 under the auspices of The Management Club, are a 'not-to-be missed' for boardroom members of Sri Lanka's nation and corporate brands hoping to be promoted on a global platform.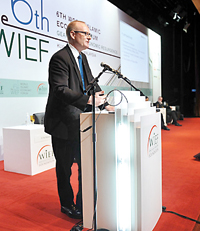 Picture shows Martin Roll speaking at the World Islamic Economic Forum in Kuala Lampur last year.
He will conduct two seminars on strategic brand building, aimed at Company Directors, CEOs and top Marketers. The programme is sponsored by Sri Lanka Insurance, Bartleet Finance, Airtel, Odel, Richardson Projects, VisionCare, Ceylon Biscuits, Alpha Industries, and Dimo, while the partners are Cinnamon Grand, Sunday Times/Business Times, MTV/YES FM and Bates Strategic Alliance.
A statement from the organisers said that the overall business climate today is changing more rapidly than ever forcing companies to respond and evolve more quickly. Customers are at their most demanding while companies are struggling to face these challenges while surviving the competition.
"As a world renown thought leader in value creation through brand equity driven by tremendous global experience and insights on such situations, Martin Roll has helped boardrooms to enhance shareholder value and create sustainable competitive advantage," it said.
Mr Roll is a leading global expert on leadership, strategy and branding, with vast international knowledge and experience.