LOLC said this week that its ability to source long-term funding from foreign multilateral and bilateral agencies at attractive rates helped to reduce borrowing costs to a total of Rs. 4.9 billion in the quarter ending 31 December 2010.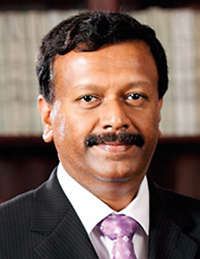 Kapila Jayawardena
This, it said in a statement, reflected the lower interest margins sought by the group. Releasing its results for the nine-month period to December, the group – which has recently invested in the leisure and tourism sector in a big way – said pre-tax profits for the period was Rs. 7.1 billion, sharply up 485% from the previous, corresponding (9-month) period due to financial services sector, trading sector and the other sectors contributing exceptionally well.
"The financial services sector showed excellent performance with pre-tax profits of Rs. 5.5 billion, a growth of 354% over last year. The rest of the group contributed Rs. 1.6 billion to the bottom line. With a contribution of taxes of Rs. 1.1 billion, the group recorded post-tax profit of Rs. 6 billion, a growth of 647% over last year," the statement said.
Strong growth of the lending business, propelled by the rapid expansion of the customer base, was facilitated through a strong growth in the group's footprint, especially in the rural sectors. The total count of the financial services sector outlets now exceeds 140, of which, Lanka Indian Oil Company outlets and 'Isuru Diriya' centres account for 65. The company's entry into the North and East is already reaping benefits with significant business volumes coming from these largely untapped markets, it said.
LOLC Insurance Co., and LOLC Securities Ltd., - the latest additions to the group are drawing up their plans and are expected to commence operations within the next few months, according to Kapila Jayawardena, Group Managing Director and CEO of LOLC, who also added that the group has been able to break new ground in profit diversity with vigorous implementation of initiatives taken in developing its core business, as well as embracing the quest for new opportunities. "This performance, which reflects a quantum leap when compared to the previous year, was due to the implementation of the group's roadmap which enabled us to capture opportunities well ahead of time," he said.