Having extended assistance by way of military hardware for Sri Lanka in the war against terrorism, the Czech Republic is now ready to lend its support in enhancing trade, tourism, education, scientific research, power and energy, cultural and environmental fields.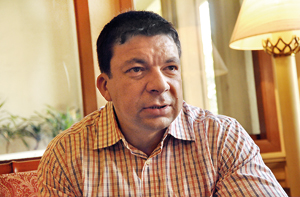 Miloslav Stasek, the newly appointed Czech Ambassador for Sri Lanka based in New Delhi, in an interview with Business Times during a visit to Colombo, said that he will initiate immediate action to double the volume of bilateral trade between the two countries that stands at $50 million, within the next two years. The trade balance is heavily in favour of Sri Lanka at present as it exports to the Czech Republic is $40 million.
The Czech Republic has an export-oriented economy and exports about $130 billion worth of goods and services for a population of 10 million.. As her exports are essentially infrastructure-related goods and services, future investment to Sri Lanka would be essentially drawn from those sectors, he said.
He revealed that he had fruitful discussions with Foreign Minister Prof. G. L. Peiris agreeing on a number of aspects aimed at further enhancement of Sri Lanka –Czech relations. The Sri Lankan foreign Minister will leave for Prague next month to review political consultations between the two countries, he said. A high powered Czech business delegation headed by the country's Deputy Foreign Minister will be in Colombo in June this year to explore investment opportunities in Sri Lanka and for further political consultations, and another delegation led by the Czech Environment Minister will visit the island in April, he disclosed.
Emphasizing the importance of exchanging investment trade business and cultural delegations of both countries, Mr. Stasek noted that it will help in understanding the needs of the people in both countries. A major plus point for Sri Lanka, according to the Czech Ambassador is the island's strategic location and "a predictable, business friendly investment environment" and its friendly people. This makes Sri Lanka a potentially attractive destination to Czech and European Union investors who want to operate in a hassle free environment.
The Czech Republic is exploring the possibility of investing and providing technical know-how for hydro power, wind energy and solar power and water management projects in Sri Lanka . Mr. Stasek said that he held talks with Minister of Power and Energy Patali Champika Ranawaka on the setting up of a hydro power plant in the South with Czech assistance. Another possible inflow of Czech investment was in upgrading Sri Lanka's oil refinery. The Czech Republic is willing to finance the project through the provision of equipment on soft terms, he said.
He also plans to work towards reviewing the student exchange programme between universities in Prague and Sri Lanka. He said that he hopes to re-start this programme which was halted in 1990's. He also expressed interest in developing hotels and encouraging Czech tourists to visit Sri Lanka.
'Hony. Consul of the Czech Republic in Sri Lanka, Jayantha Fernando said he is making every effort to further strengthen trade relations between the two countries.