The Automobile Association of Ceylon (AA) and Asian Alliance Insurance (AAI) have entered into an MoU to serve the insurance needs of the AA members.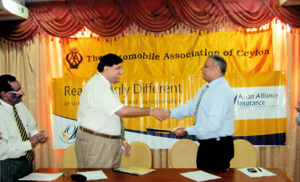 The MoU being exchanged
In a joint statement, AAI said it entered into a strategic partnership with the AA with the objective of enhancing the benefits to the Sri Lankan motorist in numerous ways.
This tie-up will also benefit the Asian Alliance motor insurance policyholders who will be offered a 24 hour roadside breakdown service, towing facilities and host of other services by the AA for a nominal fee.
AAI commenced operations in December 1999 and the company has grown from strength to strength and is recognized as one of Sri Lanka's leading players in the insurance industry at present offering tailor-made insurance solutions to its clientele, protecting them from any form of risk.