Top Sri Lankan umbrella maker, Rainco Pvt Ltd has diversified its business portfolio into outdoor living accessories, indoor outdoor blinds, shade structures and outdoor wood protection paints.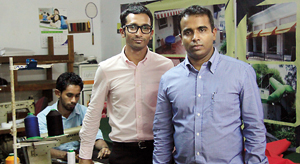 Picture shows Directors Fazal and Faris Fausz at their factory
By doing so it has thus expanded its existing business into promoting the concept of outdoor living. Traditionally, a family owned business, synonymous with stability and reliability, the company said in a statement that it is moving forward aggressively into new areas with a focus on innovation and progression.
Another company under the Rainco umbrella - Light and Shade, recently rebranded themselves with a view to catering to increasing demand for superior quality blinds and shade structures that are fast taking the place of traditional curtains and sheet metal tents; both in the domestic as well as corporate segments.
The blinds division is branded as Light and Shade ' Window Ware', while the canopy division has been branded as 'Shade Systems'.