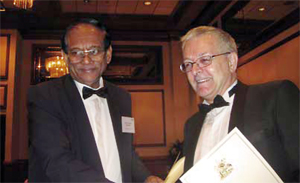 Emeritus Professor Dayantha Wijeyesekera from Sri Lanka was judged the 'Runner up' at the Competition on Papers presented by ICE Country Representatives in the Asian Region at the recently-held Asia Pacific Convention of the Institution of Civil Engineers-ICE (London) in Kuala Lumpur Malaysia.
The theme of the competition was 'Infrastructure development in the tropical environment' while his paper titled 'Post Tsunami infrastructure rehabilitation in Sri Lanka' referred to the damage to infrastructure caused by the December 26, 2004 tsunami.
Prof. Wijeyesekera who is the Chairman, Tertiary and Vocational Education Commission (TVEC) in the Ministry of Youth Affairs and Skills Development, is currently the ICE Country Representative for Sri Lanka.
Picture shows Prof. Dayantha Wijeyesekera (L) along with Mike Dobie (R) ICE Country Representative for Indonesia, the award winner at Hilton Hotel, Kuala Lumpur, Malaysia recently.