In a possible first for Sri Lanka, Indian business tycoon Vijay Mallya was in Sri Lanka this week on a 3-day holiday flying into the country in his personal jet and then using his luxury yacht to travel to southern Galle and back, friends and colleagues said.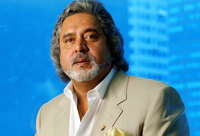 Vijay Mallya
"He was here purely on a holiday with his wife and mother," said Suren Mirchandani, a close friend and Director at Sri Lanka's Deccan Aviation. Mr Mallya has an indirect investment in the local company as his Indian outfit has a 50% stake in it.
The flamboyant Indian businessman who is Chairman of the United Breweries Group, India's biggest brewer with Kingfisher beer and Kingfisher Airlines, and owns the Formula One team Force India, the Indian Premier League team Bangalore Royal Challengers, and some soccer teams among other investments, spent three days in Galle where the visitors went whale watching among other touristic activity.
This is Mr Mallya's second visit to Sri Lanka but first holiday. In around 2002-03, he met then Prime Minister Ranil Wickremasinghe during a visit to the island to discuss business interests.
He initially made an investment in a new Sri Lankan brewery but withdrew due to issues with other partners.
According to British businessman Geoffrey Dobbs, who also played host to the visiting Indian beer baron in Galle, they also 'checked out' some properties in Galle and a Mariner project. "No he was here on a holiday," Mr Dobbs also confirmed, adding 'I think he will invest (in time) given the right opportunity'.
"We went whale watching but couldn't see any whales," laughed the long-time resident of Galle who is director of the now-famous Galle Literary Festival. Mr Mallya and his family flew into Colombo on his personal jet, boarded the Indian Princes luxury yacht, said to be one of the largest private yachts in the world, and sailed to Galle where they spent three days before returning on Tuesday and flying out of Colombo.