While any business, company or individual needs a great idea and the right way to market that idea, they also need to truly want success, which is what Expolanka Holdings Ltd was made of – the tenacity to achieve success.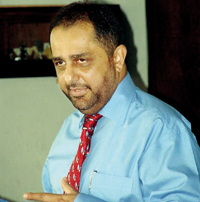 Hanif Yusoof
It was in 1978, that five individuals started a business to export fresh produce that Expolanka was born. Now the group feels the time is ripe to open out its stock to the public. "The country's economy was liberalised, so there was more opportunity. But we were just starting and it was tough," Hanif Yusoof, Group CEO of Expolanka reminisced to the Business Times. He said there was a learning curve which was the hardest for these five entrepreneurs but they forged on, with trying times.
Gut feel and insight
He added that at most times it was a combination of left- and right-brain techniques, from analysis and experimentation to gut feel and insight during the first few years with the company becoming the largest fruits and vegetables exporter in the country. And, of course, planning is crucial. So many entrepreneurs have goals and ambitions, but not a plan and Mr. Yusoof reiterated that planning was a cornerstone of their business especially pertaining to the fresh produce business. "We don't as a policy believe in short cuts to success. We have taken a long and winding road to achieve this and it's worth it," he added.
Resilient growth
Entering the corporate walk of fame through blood, sweat, tears, this group has now diversified into 12 different businesses - exports, imports and trading, freight forwarding and logistics, manufacturing, airline representation and operation, travels and tours and information technology over the years. "We have 49 companies in 11 countries and we're present in 38 cities," Mr. Yusoof said, adding that today, Expolanka is a market leader in some of these fields with strong international connections present in the region.
He attributes this success to customer service excellence, high business ethics and a committed workforce which made Expolanka triumph today. "We believe that sustaining these will build up resilient growth tomorrow. This sound philosophy has enhanced our excellent industry standing and reputation which continues to mature," he added. He went on to say that it's important to know when to delegate, and to be able to recognize the right time to do that.
"To push responsibility down in your organization, and to force good ideas to bubble up within it, you must listen to what your staff is trying to tell you. The folks on the front-lines, the ones who actually talk to the customer are the only ones who really know what's going on out there and we swear by empowering, not overpowering," he said explaining some of the success at Expolanka. He reiterated that business is about attitude and that it's through this right attitude that an Rs 22 billion turnover company with 2900 direct employees managed to weave a success story.
Good legacy
Still a first generation business, it has seen a three decade growth and now the company is planning a restructuring for the second generation. "If this legacy is to continue, it has to be structured well. We always had organic growth and now we want to take the next step as we feel there's a lot of growth potential for the businesses," he reasoned.
As a start, Mr. Yusoof said that the company plans to go public. "We want to broadbase Expolanka's ownership and already completed a sell down," he said. He said that the company has done a private placement to the tune of 17% of its stock worth Rs 1.9 billion by some institutional investors. Watapota, which participated in this private placement by Expolanka, bought a stake around 2.5% while conglomerates such as John Keells Holdings and institutional investors such as Logan Rockefeller also participated.
Rs 2 billion IPO
Mr. Yusoof noted that this was done in a bid to gear up for the Initial Public Offering (IPO), restructure the debt in the companies while revving up for immediate growth in the core business. "We are hoping to raise about Rs 2 billion through the IPO and the total sell down (with the recent private placement) will be 25% of the company," he said.
He said all firms, except their corrugated business, aviation and garments will not come into the IPO. He said that Expolanka is gearing to expand the freight forwarding business. "We'll be eyeing acquisitions in freight forwarding as well," he said. He said the company will apply to the Securities and Exchange Commission for sanctions to go for an IPO within the first half of this year.
When queried whether Expolanka will get into other businesses, prompt comes the reply, "We only want to do what we're good at. We went into transportation as a requirement for our initial business – fresh produce. As such all the businesses we are in are a direct result of backward integration. We'll continue to do that."