When I remember school cricket in the late '60s and the early '70s, cricket was cricket where the batsmen and the bowlers dominated the game and any one who fielded better than the others was a bonus.
The rest of the clan were expected to hold on that snick while standing or crouching at the slips or run behind and stop that ball before it rolls over the boundary line or may latch on to a catch at any other place on the field.
At the same time while fielding at the slips generally the seniors may not have to run for the ball that have passed through the cordon as it was the job of the most junior man who is standing in that semi-circle to flee behind the ball.
Four decades on, the other day I heard the former Sri Lanka opener Sidath Wettimuny explaining how the discipline of fielding has evolved into to one of the most demanding criteria in the modern game of cricket and only a batsman or a bowler's name may not slip into the cordon of the final eleven if you are not good at being a support artiste.
With these thoughts rolling in my mind and wondering how the national team is working on this department in the game of cricket, we met the National Fielding Coach Ruwan Kalpage to take us through the paces of modern day fielding.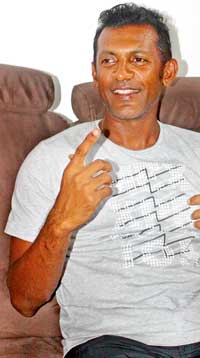 Ruwan Kalpage
Being a modest man who would like to take a subject through its correct paces, Kalpage began by saying, "I remember till two decades ago most of the boys who took part in sports were engaged in at least two disciplines. Either it was cricket and rugger and may be athletics and some other sport, but in reality every sportsman in school was sure to be engaged in some mixture of sports. But, in today's context it is a different scenario.
"If you are a cricketer there is very little chance that you could get involved in any other sport. First the cricket season runs from almost July to April and then the district and other allied tournaments come on and from there it may be the national under 17 or 19 matches followed by the under 23 cricket tournament. So it is a round the clock and round the calendar issue where you have little time for any other sport."
In a situation of that nature automatically the game becomes more demanding at the junior level, says Kalpage adding that "you have to be very competent in all aspects of the game and fielding becomes a very important part in it".
Kalpage, a product of St. Anthony's College, Katugastota, was known to be one of the best all-rounders in the game from a very young age where he was more than a dependable batsman, a good right arm orthodox off spinner and a top close-in fielder who could do the job very well even closer to the boundary line – in short, from his younger days he was a complete cricket product.
Kalpage adds, "In a match if I had had a wretched time with the bat and a not so good time with my off spinners I would ensure that I will be in the game with one or two good catches and a run out or two. Having played the game at that time by engaging in more than one sport automatically kept me in shape and I in return became more athletic and very agile. This helped me in my fielding too".
Kalpage explains that being a fielding coach is a specialized field where you have to identify each cricketer and concentrate on their cases differently. While the batting coach or the bowling coach may have only a section of the pool to look after, the fielding coach has to keep every player on his toes, feeding them with all the modern techniques of fielding and attending to each player individually according to their strengths and weaknesses.
The player that has impressed Kalpage the most where dedication is concerned is none other than Sri Lanka captain Kumar Sangakkara. Kalpage says, "Sangakkara first will take his batting session at the nets and then after that, he will get to a side and get some throws at him and work for another extended period. Then he would get into his wicket keeping gloves and work another session. If he had heard about some new technique, he would also work on that just to see if that suits his style. He has total dedication and he always wants to be at the top his game".
The Lankan national fielding coach also said that a good fielding side always is looked at with respect by the opposition. At the same time a good fielder is given much respect by the opposition whatever he may be
"For instance for the past five years no knowing batsman in the opposition would want to take any liberties with Dilshan, that is the reputation that he has built for himself over the years and still no one wants to put him to the test," Kalpage says.
Kalpage also feels that Chamara Kapugedera stands a few notches above the rest of the brood in today's Sri Lankan national fielding department. "He is a dedicated worker who puts a lot of emphasis into his fielding and at present he is on par with anyone else at the covers at any standard of cricket," Kalpage said in conclusion.