Sri Lanka Cricket is calling for applications from cricket coaches world wide seeking for a replacement for National Coach Trevor Bayliss who had indicated that he wishes to part Lankan company at the of the World Cup.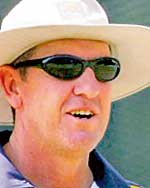 Trevor Bayliss
Speaking to the Sunday Times on the issue SLC's Interim Committee Secretary Nishantha Ranatunga said "Yes, we have advertised for the position which is scheduled to take place at the end of the World Cup tournament.
"First we will have to ascertain as to who are the interested parties and then sift through the candidates before arriving at the final decision."However Trevor Bayliss who has given us notice of his departure, has indicated that he would be with the Lankan team for their summer English tour that would take place soon after the IPL if the SLC indicates if they need his services. In answer to this Ranatunga said "We have advertised for this position and the term of the new coach should have begun by then, but if we have any difficulties in arriving at the final decision, we may take that option."
It is learned former Australian batsman Stewart Law who is employed as the Assistant Coach of the SLC may be a strong candidate for this position, provided if he does apply for the position.
Under Bayliss Sri Lanka enjoyed one its best seasons in international cricket by moving to the third position and the second position in the ICC rankings in Test cricket and 50-Over Limited version.