The visiting England Under 19 side gained a consolation win over hosts Sri Lanka who had already clinched the five match series. Earlier Sri Lanka recorded three wins. Yesterday however the English lads gained a seven wicket win in the fifth and final limited over game at Braybrooke Place.
An unbroken 92 runs stand for the third wicket between opener Bill Foakes and Ateeq Javid saw them through with 95 balls (15.5 overs) to spare. Foakes remained unbeaten on 69 with nine boundaries while Javid chipped in with a 49 which had two boundaries and a six.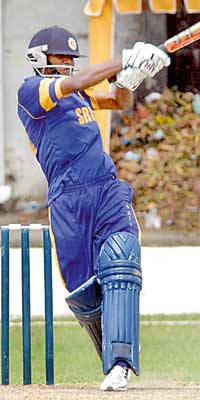 Angelo Jayasinghe's half ton was in vain. - Pix by Ranjith Perera
Sri Lanka came into the game making a few changes, including skipper Bhanuka Rajapakse who were rested. The side was led by Richmond's Yasoda Lanka while Koshan Dhanushka, Dilshan Dhanushka, Nimna Karunaratne, Kasun Rajitha and Sandun Weerakkody made their debut.
Sri Lanka winning the toss and electing to bat underwent an early setback as they lost their first wicket in the second ball of the first over that of Nimna Karunaratne.
From there on, apart for a 22 runs stand for the second wicket between Niroshan Dickwella and Sandun Weerakkody, the England bowlers were in control with their left and right arm pace combination of Matt Dunn and skipper Lewis Gregory tormenting them.
Scoreboard
Sri Lanka Under 19 innings
Nimna Karunaratne b Dunn 00
Niroshan Dickwella c Javid b Gregory 23
S.Weerakkody c Rossington b Dunn 10
Yasoda Lanka b Milnes 02
Angelo Jayasinghe c Javid b Dunn 53
Lasith Abeyratne c Rossington b Gregory 02
Amila Aponso c Rossington b Gregory 00
Koshan Dhanushka b Gregory 07
Dilshan Dhanushka c Foakes b Ball 00
Akila Jayasundara c Ball b Milnes 34
Kasun Rajitha not out 01
Extras (lb3, w4, nb2) 09
Total (all out 43.1 overs) 141
Fall – 1-1, 2-23, 3-28, 4-40, 5-51, 6-53, 7-63, 8-68, 9-124.
Bowling – Matt Dunn 9.1-1-26-3, Adam Ball 6-2-19-1, Lewis Gregory 10-2-22-4, Tom Milnes 9-1-30-2, Jack Parsons 4-0-18-0, Andrew Salter 5-0-23-0.
England Under 19 innings
Bill Foakes not out 69
A.Rossington c Dickwella b K. Dhanushka 00
R.Singh c K. Dhanushka b D. Dhanushka 11
Sam Wood run out 07
Ateeq Javid not out 49
Extras (w5, nb4) 09
Total (3 wickets 34.1 overs) 145
Fall – 1-6, 2-28, 3-53.
Bowling – Dilshan Dhanushka 3-0-17-1, Koshan Dhanushka 10-1-53-1, Amila Aponso 9.1-2-25-0, Kasun Rajitha 5-1-20-0, Akila Jayasundara 7-0-30-0.