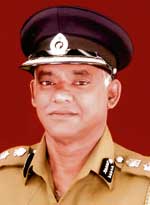 President of the Sri Lanka Hockey Federation Sumith Edirisinghe has been elected as a Council member of the Asian International Hockey Federation for a four –year period.
Edirisinghe who is also an international umpire has proved himself as a top class organizer who has successfully conducted several meets and his first priority in his new job will be to organize a four-nation junior tournament in Sri Lanka this year. He is a product of Nalanda College and represented the Police and Government Services hockey teams.
Edirisinghe is an SSP by rank who is the director of the Crimes Division and the secretary of the security committee of the Beach Games scheduled to be held in Hambantota this year.