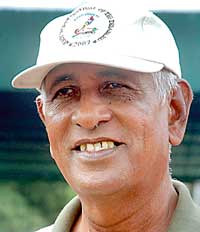 Navaratnam Vyravanathan
Navaratnam Vyravanathan – one of Sri Lanka's most senior starters of the Sri Lanka Amateur Athletic Association passed away yesterday.
Vyravanathan, who hailed from Vaddukkodai Jaffna College, broke into the athletic limelight in 1958 when he won the Junior Nationals High Jump event and carried away the best athletes' award. He passed his Athletic Technical Official's examination in 1967.
A former member of the national athletic selection committee Vyravanathan served as a member of the National Technical Committee and the Examination Panel until his demise.
His remains lie at the Jayaratne Funeral Parlour from 8 a.m. today and will removed for cremation at 1.30pm. at the General cemetery Kanatte.