Sri Lankan ruggerites will cut another niche in Asian Rugby when they kick off the Asian Five Nations Tournament -2011. The home team will lock horns with Arabian Gulf on April 23 which will be the very first game in the tournament this year.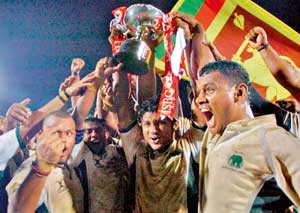 Sri Lanka climbed close to the top of Asian rugby's totem pole after beating Singapore 23-16 in a thrilling final of the HSBC Asian 5 Nations Division II tournament played in Singapore.
Japan who already qualified for the Rugby World Cup 2011 will play their game against Kazakhstan at a neutral venue in Thailand in order to promote the game in the Asian Region. Japan is the only Asian country to represent in all the Rugby World Cup's (RWC) from 1987, its inception. Kazakhstan who was placed second behind Japan went up to the final qualifying stages for RWC before losing to Uruguay 44-7.
Sri Lanka won the Division One last year (beating Singapore) and has taken the place of South Korea who was demoted for finishing bottom at the elite level last time. The other change will see the United Arab Emirates take the place of the Arabian Gulf, which was disbanded in line with the International Rugby Board move away from regional unions after the Dubai Sevens in December.
The Sri Lankan head coach Ellis Meacham will arrive in the country from New Zealand soon and the team will commence practices three days after at Royal Complex with 63 players. Further with the funding of the IRB top players from the country will get contracts from the SLRFU. There is a issue regarding assistant coach Ronny Ibrahim and Viraj Prasanna with the SLRFU still failing to issue their appointment letters.Air Commodore M K D Nanayakkara will be the Manager of the side. With Ronny Ibrahim, Viraj Prasanna and C P. P. Abeygunewardena operating as assistant coaches to the New Zealander. Out of the selected 63 players Shehan Pathirana (Royal College), Bhanuka Nanayakkara (St Peter's), Steven Nelson (St Peter's), Kalana Amarasinghe (Navy SC), Prasad Etipola (Kandy SC) and R Kodituwakku will not attend practices due to injuries.
The following are the Asian Five nations schedule for 2011
23 April Sri Lanka vs UAE Colombo
Kazakhstan vs Hong Kong Almaty
29 April UAE vs KazakhstanDubai
30 April Hong Kong vs JapanCauseway Bay
7 May Sri Lanka vs Hong Kong Colombo
Kazakhstan vs Japan Bangkok
13 May UAE vs Japan Dubai
14 May Kazakhstan vs Sri Lanka Amati
21 May Japan vs Sri Lanka Tokyo
Hong Kong vs UAE Hong Kong