Does your performance suffer when you're not "on," you feel uncomfortable, or don't have your "A" game that day? Do you struggle with staying determined and grinding out the competition if your game is off or the competition is too strong?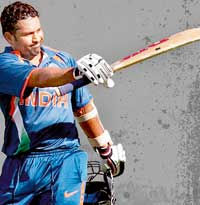 One of the other best grinders I've seen in cricket history is Sachin Tendulkar
At an extreme level, I work with "perfectionists" that have trouble staying composed when their games are not up to self-imposed standards. They not only want to win, but they want their performance to look good and feel good at the same time. If they don't perform close to perfection, they lose momentum, entertain doubts, and become easily frustrated.
Cricketers who are not perfectionists by nature also struggle with getting the job done when they don't feel right or are not "spot" on (are you one of them? Do read on). Once I have consulted a very prominent Sri Lankan National Cricketer, who misses shots early in the game and then concerned playing usual strokes for fear of missing more shots. I don't think Brian Lara or Sachin Tendulkar would ever think this way...? Instead they kept on playing strokes and believe the next shot is going over the rope!
Likewise, I know golfers who struggle with finishing off the round when they don't have their "A" game. Confidence gets thrown out the window when the round does not go according to plan or at the first signs of marginal shots.
I've also worked with an Archer that self-destructed when her team made one mistake early in the shooting. She was so distracted with thinking "what's wrong with me/us" that she could not adjust.
What's common among all these scenarios? If a Cricketer or a team is not willing to grind it out or make adjustments, they have little chance at winning or performing well. History has proved that.
One of the top grinders I've seen in Cricket is Adam Gilchrist. He's exciting to watch because one moment he hits amazing shots no other player in Cricket can hit, but the next moment he might have to scramble his way out of a jam by hitting a recovering shot from an adjacent fairway.
"Well, if you look at most events you play, you don't ever hit the ball great for five straight days. You're always going to have one off day, and even some of my best innings that I've gone, I had one off day. But off day score wise can still be a pretty good score, but you don't feel quite right about your game, and you ask how I'm going to make up the score, and I did that, many times in my carrier. I wasn't hitting the ball very good on many seasons but somehow I made scores, and that's what you have to do."
Adam Gilcrist said, after retiring, at the PBP Consultancy, Australia
I believe one sign of a mentally tough athlete is the ability to improvise and make adjustments when you don't have your best game that day. You have to understand that it's impossible to play in the 'zone' or near your peak every day. As my mentor Dr. Philip Greenway at Monash University, Australia says, you must learn to be comfortable with your game when you feel uncomfortable.
Not every athlete has the mindset to play well when they feel uncomfortable or struggle. Negative emotions and doubt interfere with this mindset. How do you pull yourself up and get the most from your performance when you are uncomfortable? How do you feel comfortable when you don't have your "A" game?
Here are four strategies to help you adjust:
FIRST, you have to prepare yourself mentally prior to competition. You must know that competition does not always go according to plan. You plan for the best scenario, but also prepare for the fact that you might need to improvise or adapt. I train my Clients to be prepared mentally so they can make any adjustments and cope with any adversity. If your long game is not 'spot on', be prepared to grind it out with a great short game.
SECOND, you have to manage elevated (and sometimes perfectionist-like) expectations about performance. For example, it's not a good idea to expect centuries or five wickets in every game because probabilities are very rare at ODI. Often, Cricketers will throw in the towel and check out when their performance is not up to their self-imposed expectations.
THIRD, you have to enjoy being in the role of a grinder. Can you abandon your original game plan and just get the job done or win ugly? One of the other best grinders I've seen in the Cricket history is Sachin Tendulkar. Sachin has won many awards with an amazing scores, simply just being a grinder. And that's the role he enjoyed and was rewarded for.
FOURTH, don't get caught into the mental trap of over analyzing your mistakes. If you try to fix what's wrong in competition, this mindset does not allow you to adapt. You're too busy analyzing what's wrong with your game and you get distracted from getting the job done.
If you want to learn more about how to win ugly and trust your game when you are off, I suggest you to speak to trained and qualified Sports Psychologist. Or simply logging to www.pbpconsultancy.com
Mental Training Tip
"Every game I Enjoy, No Matter My Fitness Level."
Sometimes your energy or fitness might not be at the level you would like it. But does that mean you can't perform well? According to the 'Young Master Blaster' (name withheld due to the privacy Act) he's ready to give his best even when his fitness is not at peak levels...
"It doesn't matter how much energy I have, it's all going to go into every game. That's one of the things that I enjoy most - stepping out to the ground no matter what kind of shape I'm in." - says a prospective Sri Lankan National Cricketer