With a sporting history that extends well past a decade, Alethea International School has, over the years, acquired for itself an enviable amount of success in sporting circles. Initially these triumphs were largely confined to badminton and cricket. Steadily however, they are gradually beginning to exert themselves in several other sports such as basketball and karate.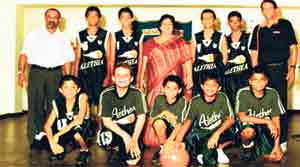 The Alethea basketball team
Nevertheless Badminton still occupies the title of the school's leading trophy clincher, with this year alone yielding numerous victories in a raft of inter- international and inter school competitions.
Beginning with the under 15 age group, Alethea upstaged all their opponents at the inter-international schools tournament to not only snatch the overall championship but also the best shuttler accolade for Devon de Vesser.
They repeated this feat in the under 19 girls tournament when Indira Attygalle added to the triumph of winning the championship trophy by taking home the best player title, Though a cause for celebration, victories in these two international school competitions did not satisfy Alethea's high badminton ambitions and they walked into the inter school tournament determined to attain these dizzying heights.
And attain them they did, emphatically brushing past their opponents before sealing the title. Two of the chief contributors towards this success were Vibhavi Madusha and Chiranthika Minamuthu who produced frequent spells of scintillating play throughout the competition.
Complimenting these successes in badminton, Alethea has also maintained its reputation as a gritty competitor in international schools cricket. The school, which in 2003 won the inter-international schools cricket title, has been making steady progress this year. In the under 13 and under 15 competitions they journeyed all the way to the quarterfinals before being thwarted. They also put forward a strong unit for the under 17 and under 19 tournaments, but unfortunately both of these events were called off due to the rain.
Their efforts in other sports too have shown a noticeable improvement. This is especially true of karate, where the school has won six golds in the inter-international schools competition. They also have a black belter in their midst in Dilani Amendra, who captains the team.
With regards to basketball, which has occupied a place as a popular sport in the school for a long time but has yet to see any silverware, Alethea still manages to remain relevant in the international school sphere. Their most telling contribution to the sport came in the years they organized the Brigadier Hapugalle Memorial trophy from 1990 until 2005.
In other sporting avenues Alethea's Sports Coordinator, Shirley Windus says the school is seeing a lot of enthusiasm toward football, which was only recently been added to the extracurricular list, and he says this will eventually pay dividends once the young team finds its feet.
The sports head concludes that the future of sports at the school looks bright and this is mainly due to the institution's sporting philosophy. "We tell our students before they go out to compete as fairly as possible but not to just compete without having any intention of winning. Anyone can take part in an event there is nothing special about just competing." - David Stephens