An undisputed leader in the file of migration consultancy the Career Development Centre (CDC) has launched its latest expansion phase to mark its ever growing entrepreneurial wings. With over ten years of expert track records marking superlative success as migration consultants CDC specializes in migration to Australia, Canada and New Zealand and has even expanded its reach to India. Among the host of services, classes for IELTS has been part of the outfit from its inception, catering to the needs of the scores of applicants who stream into the CDC premises on a monthly basis.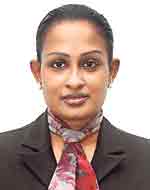 Mrs. U.S.Pathirage (CDC Managing Directress)
Apex IELTS institute -a subsidiary of CDC
The growing need for IELTS classes with greater individualized attention to learners' development propelled CDC to devise plans to expand its IELTS facilities into a fully fledged institute named "Apex" capable of catering to a growing clientele utilizing the latest sophisticated methods and combining them with highly experienced instructors to ensure best results for learners. This well planned expansion project comes as a timely development on account of the changes that are set to be done to the Australian Migration policy from July 2011.
Instructors
Experience at being an IELTS instructor counts in a very crucial way and this factor has always been a focal criterion when CDC selected its instructors. Since its inception CDC has always banked on the expertise of the instructors to devise the approaches to class planning, and strategy development. A highly able group of ten qualified dedicated instructors with years of experience form the cadre of exponential resource persons who guide the learners every step of the way.
Focused clientele and packages
The types of groups to whom these services are addressed are certainly broad in scope in keeping with the enterprising visions of CDC. Hopeful migrants are the first target group whose needs of IELTS vary based on the visa categories applied for. With the new policy changes from the department of migration in Australia CDC is well aware of how best to gear up learners to achieve the required target scores. Applicants who are hope for student visas will also find their needs addressed to meet the required scores to achieve their dreams of studying abroad. Packages for learners are available as per needs ranging from pre-basic English to general English to top skilled English proficient speakers whose main objective would be simply exam preparations. The thirty hour full-time course spans ten days and includes a host of instructional and practical exercises to build the learner to meet the required skills developments. Admissions.
The admissions for December have commenced and are currently ongoing with priority being given to present CDC clientele. A special discount is available for learners who register within December which is not limited to existing CDC clientele but also open to visa applicants of other migration consultancy agents who require IELTS classes.
For full details on admissions and the services available interested parties may contact Mrs. U.S.Pathirage (CDC Managing Directress) on - 0777 846641/2507677.
Policy changes
The migration policy changes to take effect after July 2011 have created a somewhat red alert situation to ensure the smooth processing of applications of those who hope to migrate to Australia under the skilled migration visa category. The IELTS requirement for trade skills migration visa category (such as electrical engineers, plumbers, motor mechanics etc) increases after July next year the upped score will stand at 8 onwards which would be a challenge to some whose English knowledge and proficiency may require extensive language skill development if they apply after the changes have taken effect. It is a timely development of CDC to introduce the Apex institute to meet the upcoming requirements of applicant post July 2011.
The policy changes will be helpful for academic degree holders and professionally qualified applicants who will have more opportunities opening up in the post July 2011 changes with the overall score on the point scale coming to sixty five points with changes on point allocations applying as well. Interested parties are advised to contact the CDC management for up to date thorough constancy that is technically sound and well informed to deliver a clear picture of what an applicant needs to be aware of before setting out to apply for migration.