AL-MANAR INTERNATIONAL SCHOOL has been conducting the Grade 5 scholarship Examination for the last several years. One of the main reasons for Al-Manar to continue this examination annually is to motivate the students to take a keen interest in learning. It provides an opportunity for exhibiting their talents.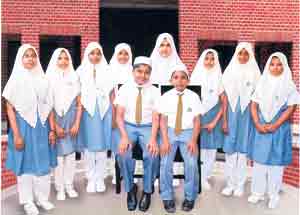 Standing from Left - F.Shafeeya Rilwan, F.Rasheeda Tharique, F. Shazna Mohideen, F. Hafra Zuhair,
F.Summaiyah Asham, F.Shafna Ansar, Farhath Zakir Hussain,F.Safiyyah Faiz . Seated form Left - Mohamed Iqlas, Mohamed Imran
We have found that not only the students but also the parents and teachers take special interests in guiding the students to score higher marks in this competitive examination. The teachers guide them from Grade 4 onwards in all 3 subjects namely English Language, Mathematics and General Knowledge. We are aware of the fact that students now don't show much interest in their learning.
They don't pay attention to teaching and most of them fail to concentrate on their subject.Therfore, the above competitive examination has proved to be a great success for AL-MANAR INTERNATIONAL SCHOOL and now we are planning to conduct a similar competitive examination for Grade 8 too.
The new teaching method is carried out with the objective of developing students to cope with the requirement for future employments in the rapidly changing environment. Therefore, according to the new teaching process in the classroom, three types of skills are developed, thinking skill, social skill and personal skill.We need to promote students to explore new areas with the changing needs of the education environment.