The National Tree planting programme inaugurated by President Mahinda Rajapaksa on November 15 was successfully implemented at D.S. Senanayake College Colombo 7 by planting 100 trees in the school promises.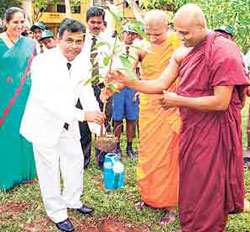 Principal Mr. D.M.D. Dissanayake planting a tree
assisted by 2 members of the clergy, from left Deputy principal Mrs. Lilani Samaranayake, Assistant Principal Mr. Jagath Amarasinghe and some students.
The trees were planted in the presence of parents, old boys, members of School Development Society and teachers. A variety of trees of medical plants, fruit trees and other shady trees such as jack were planted as per guidance given by the ministry of education.
The school which maintains a "Go Green Spirit" from the primary sector of school will continue to grow in the children's hearts as the trees grow, stated the principal Mr. D.M.D. Dissanayake. Speaking on the occasion the principal stated that a tree is a priceless wealth as it
provides food, medicine, fuel, timber and also manure
Provides fresh air
Cools the environment and provides shade to the children
Adds beauty to the environment
Maintains moisture of the soil
Gives shelter to the birds and animals
Provides physical and mental relaxation and promotes healthy living in a school environment.
Regulates life cycle.
With the launching of this tree planting programme we want to encourage children to make most of their grounds by planting trees. This helps create woodland habitat, increases biodiversity and most importantly, provides an excellent leaning source, planting the trees, watching them grow, seeing how wildlife in encouraged, watching the changing nature of trees bearing fruits on seasons and weather.
Firstly we need to be confident that the location for our trees is "permanent". The tree's appeal should focus on habitat creation, biodiversity targets and social benefits.
So we need to be sure that our trees will be planted where they have the best chance of reaching their full potential. Environment education at D.S. Senanayake College is encouraged as it plays an important role in protecting the required temperature of the ozone and as a preventive step in global warming. Mr. D.M.D. Dissanayake further stated that plants beautify the school premises and is a visible part of the landscape.
Care must be taken to ensure proper growth conditions as it increases the real estate value of the premises. Fruit trees eliminate pollutants in the school environment by generating oxygen into the air. The tree planting project in schools inaugurated by President Mahinda Rajapaksa is certainly going to greatly benefit the students and the society at large. The principal requested all the children to plant trees in their gardens today to make this a successful event island wide