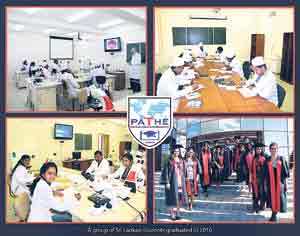 PATHE Academy welcomes you to study Medicine in Vitebsk State Medical University (VSMU) in Belarus in Europe. Presently over 200 Sri Lankan students (all admitted by PATHE Academy) from almost all prominent schools and all parts of our country are studying in Vitebsk VSMU. Contact PATHE Academy on Hot lines: 077-3017883 - English and Tamil - 077-3959799 - English and Sinhala and on land line: 011-2502012 at No.111/ -1/2, Maya Avenue, Kirulapona, Colombo 6. www.patheacdemy.org
Vitebsk State Medical University was founded in November 1934 as a medical institute and an essential link in the chain of medical institutes in the former Soviet Union.
Latest news about VSMU is that a new training building was opened in September 2010. It is a unique complex of several departments and modern equipment . The new complex occupying a total area of 12 thousand square metres is named 'Morphological' building where students will be able to study human cells in advance. Anatomy Department is placed in the ground and the first floors: Operative Surgery and Topographical Anatomy Departments occupy the second floor; Pathological Anatomy Department is on the third floor; Histology, Clinical Microbiology and Forensic Medicine are on two upper floors. The most up-to-date equipment found there will help teachers and students in their scientific activity.
USD 13.5 million was spent for this building. All the rooms are equipped with plasma TV sets; every department has its own museum. The ultra modern equipment allows using the latest techniques (multimedia presentations, electronic magazines. The crucial point is that every department of the Morphological building has two or more laboratories. The new building is also very proud of its unique anatomy museum, one of the best such museums on the former-Soviet territory.
Next to the Morphological building, a new Medical Library has come up and is connected to the other buildings of the University with bridge-passes and all-in all it turns out to be a united temple of science and education, the cost of the project being more than 8 million Dollars. This is what is said to be the new pride of Belarus.
MD - Doctor of Medicine - awarded by the VSMU is recognized by the Sri Lanka Medical Council, British Medical Council, and many others.