Jaffna Today
Shattered lives of people in the northern region of the country are now regaining with lot of aspirations and needs. It is a fact that students in the region were deprived of better education and industrial exposure over the period of the past 30 years. As a result, they missed almost all opportunities created in other parts of the island and the world.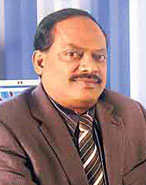 Dr. E A Weerasinghe-Director General
The cost of the devastating war is untold and incalculable. Parents and students in the north were destitute of not only the freedom and means to live, but also to know what is happening in and around the world. In fact, they missed better opportunities to acquire new knowledge produced in the other parts of the world. Moreover, it caused a huge brain drain of a highly valued body of knowledge, which had accumulated in the region.
With the end of the war it is now the right time to research into different sources of new knowledge to build up the knowledge in the region so that lives of people will thrive with comfort. We at NIBM are of the view that it is a national cause to help people in the northern region to enjoy real benefits and facilities of Business and IT education enjoyed by citizens in the other parts of the island. We have already set high standards for Management and IT education in the other parts of the country. Today we are moving to Jaffna with the same highly valued, international experience in business education to fulfil expectations of students in northern region, which is long overdue.
Quality of Business education in Jaffna - a snapshot
NIBM in its informal survey on business education in the Jaffna peninsula found that many of the educational Institutes are in the business of training students but lack the interest in developing their capabilities. This was clearly evident when NIBM conducted a test for diploma holders of IT and English language to recruit office staff for its Regional Centre in Jaffna. Almost all tested candidates were not capable of practising what they have learnt in the classrooms though, they possess diploma certificates in the relevant subjects. It is our firm belief that all certificate holders should exhibit what he / she is certified for. In fact this simple and true story depicts the pathetic reality of the story of business education in the region.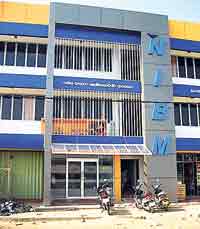 NIBM makes the difference
This is where NIBM makes the difference. Our students possess all required knowledge, skills and right attitudes to take current challenges in the industry. Being knowledgeable is not enough, if you are unable to convert knowledge in to practice. Being able to do something is not enough, if you are not capable of doing it accurately and wholeheartedly to solve problems of your clients.
NIBM is a problem solver and a provider of solutions for its clients. It is the place where students are groomed with all personal, technical and conceptual competencies to make their professional lives better.
NIBM to touch the hands of Jaffna students
It is with love and affection that we invite students in the peninsula to experience the real business education at NIBM. While respecting cultural values in the region, we simply take you through a virtual journey of universal knowledge and the wisdom of the business and IT education. IT will teach you on how to make connections by reducing distance and time between B2B, B2C, C2C and S2S while business management provides the knowledge on how to make products and services cheaper, faster and better.
Quality of education matters a lot in taking your children to a greater height. We take this opportunity to request parents in the region to take wise decisions on the path of education of your sons and daughters not only looking at the price of a particular course but also by analyzing the recognition of certification process and the quality of academic life that they are going through.
NIBM is really happy to note that parents in Jaffna are now making every possible action to make sure that their children are realizing their true potentials in order to be better citizens of the country.
Five great reasons to study at NIBM
" You will be studying at a Business School with an outstanding reputation
Ranked as a leading Business School in the country for Training and Education it is rich in academic excellence of 42 years with a national and international recognition " NIBM offers a truly global education with Internationally recognized and professionally accredited courses
15 years of experience in offering international degrees in IT and Business from the world renowned University College Dublin, Ireland, Limkokwing University of creative Technology in Malaysia, Victoria University in Australia.
"Employability of Graduates
NIBM is a well known and proven national business school of the country for producing employable graduates who are fully employed and placed in executive positions in reputed business organizations in Sri Lanka and abroad.
"Stability and reliability
A fully state-owned National Business School, governed by a reputed Council with an eminent group of professionals. Internationally recognized and accredited courses with a globally recognized quality assurance system. University Grants Commission has recognized NIBM as a degree awarding institute in Sri Lanka.
"Faculty and teaching quality
Facilitating and coaching students through a well experienced faculty of over 220 Internal and External Consultants, who are academically and professionally qualified in the business and IT fields.
Northern Regional Centre of NIBM in Jaffna
In keeping with the above objective in mind, NIBM has set up a modern regional campus in Jaffna. Similar centres are now being operated in Galle, Kandy and Kurunegala under the supervision of the main campus in Colombo.
Aims
It is expected to provide high quality, business education in the fields of management, languages and IT for school leavers and employees in public, private and NGOs in the region. Specific goals in establishing the North are;
"To set up modern learning facilities for students in Jaffna to obtain higher education in the fields of IT, Management and languages.
"To Provide better opportunities for people in the region to gain employments in different industries
Learning Facilities
Regional Centre in Jaffna has the following facilities to provide modern learning environment for prospective students:
1. 4 - Fully equipped modern lecture rooms with a capacity of 350 seats
2. 1- Computer Laboratory
3. Library
4. Study Area
5. Proggramme Office
In total, nearly 2000 students can be trained in a given year with the available facilities.
Training programmes
NIBM has already taken action to commence programmes in IT, languages and management development areas.
" Management Development
Business Management
Human Resources Management
" Languages
Business Communication
Business English
English Language
Sinhala for Tamil speakers
Tamil for Sinhala speakers
" Information Technology
Certificate of Computer Science
Certificate of Computer Applications
For more information, please contact the Programme office in Jaffna NIBM Centre . (Tele: 0212220360 Fax: 021-2220363 Email: Jaffna@nibm.lk Website: www.nibm.lk