The Career Development Day 2.0 was held at the premises of University of Colombo on December 9. The event was organized by AIESEC Sri Lanka along with the Career Guidance Unit of the University of Colombo.
Close to five hundred delegates attended this event from several educational institutes across the country. The participation consisted of students from the University of Moratuwa, Kelaniya, Sri Jayawardhenapura, Colombo, Peradeniya, Wayamba and higher educational institutes such as National Institute of Social Development, National Institution of Business Management and the Informatics Institute of Technology.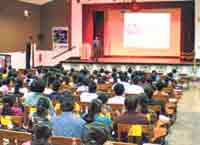 This event would not have been a success without National Partners CIMA Sri Lanka and JCI Sri Lanka event partners, Hot & Spicy Food Partner- Prima, Refreshment Partner- KIK Cola-Lankan to the last drop, Official Television Channel- ART TV, Print Media Partner- Sunday Times/ Education Times, Social Media Partner- Erbenizer.com, Official Telecommunication Partner- Etisalat Lanka Pvt. Ltd and Stationery Partner- Weerodara.
Career Development Day (CDD) 2.0 concentrated on skill and leadership development leading to successful choices in the careers of the participating undergraduates. The sessions and activities that were organized concentrated on self-discovery, building essential skills, career planning and the benefits of an international internship.
The sessions were delivered by such notable personalities of the corporate world such as Mr. Bradley Emerson, the CIMA Regional Director for South Asia and the Middle East, Ms. Shyamali Ranasinghe, Head of Learning & Development at HSBC, Sri Lanka, Mr. Gajendra Liyanaarachchi, the Managing Director, Virtual Business School, S.U.B. Hitihamu, Director Marketing and Communication, Edge Research (Pvt) Ltd and an outbound training was carried out by Sifaan Zavahir, Change Agent of Unleash Talent Inc. and his team of facilitators,
CDD 2.0 delivered on its promise to enable and develop the youth today and connecting the corporate world with that of the undergraduate world.