These days the existence of young sportsmen and women who indulge extensively in more than one extracurricular activity is a near rarity, understandably so with the ever increasing demands of their academic life. It is for this reason that Cherantha de Silva, an enormously gifted swimmer and black belter, stands confidently in a league occupied by only a select few.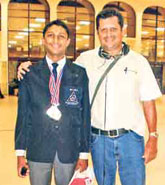 Cherantha with his coach, Julian Bolling
However the bulk of the teenager's sporting accolades have come in swimming, a sport where he has carved out a reputation for himself as a gifted and determined competitor. He first plunged into the sport when he was still in kindergarten, driven towards it by a profound love for the water.
He announced himself to the competitive swimming fraternity when he became the Ananda College Aquatic Club's under 8 champion in 2003, excelling in the freestyle and the butterfly. During this same year he also walked home with Ananda's under 8 inter-house championship, a laudable feat considering the wealth of talent and number of junior swimmers present at the school.
Significantly in the following years, Cherantha went on to sweep his alma mater's under 10 and under 12 championships. In competition away from his school he tore past a number of immensely talented junior national swimmers at the Age Group Swimming Championships, to swim home with the under 14 championship.
Notably his progress and success in the water has not merely been confined to Sri Lanka. Last year the fourteen-year-old gave a fair representation of his skills when he journeyed to Tokyo to take part in the 6th Asian Aquatic Championships.
This year he improved on his international resume when he returned from Thailand, after competing at the Chulabhorn Aquatic Championship, bearing the runner up trophy. In addition to demonstrating steely resolve regardless of where he competes, whether at home or abroad, Cherantha has also proven he is not a one trick pony.
This he did in 2009, when he became the youngest swimmer to participate in the Annual two mile sea swim. Away from water, Cherantha has proved his athletic proficiency through the dedicated practise of Shotokan Karate. His father says that Cherantha puts in an enormous amount of hard work, under the close scrutiny of his coach Jullian Bolling, in preparation for any approaching swim meet.
"Except on Sundays he swims daily in two sessions. In the morning he is in the pool from 5 until about 7 and in the evenings his practices carry on for about two and a half hours," Mr. Kapila de Silva explains.
This deep rooted passion and dedication to the sport he loves, as well as the versatility he displays by partaking in other extra curricular activities is sure to turn the youngster into one of the future's remaining few all round sportsman.