Zainulabdeen (Zainul) left us on September 13. His janaza was taken to Jawatte Muslim burial grounds and was buried in the presence of a large gathering of friends, relatives, former soccer stalwarts and members of the Football Federation.
Hi death was shocking news to all those who knew him, especially for all soccer enthusiasts. They always remember his compassion, kindness and friendliness. The time has come to unfold invaluable memories about him of this soccer legend. I have been one of his fans from my school days. However at that time I never thought that I would one day get the opportunity to play with him. I played alongside this legend for Victory SC and the National team.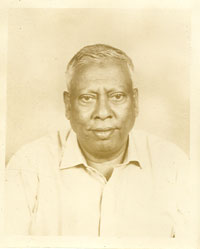 A. Zainulabdeen
When some of the senior players of Victory SC left the club to form Black Square SC, myself and players such as T.F. Buhar, Sourjah and a few others were turning out for small unrecognized clubs. Zainul made us to join Victory SC and from there onwards, he brought Victory SC forward to be a leading club in the island. As a player cum coach, he helped most of the Victory players to represent the National team.
In 1971, when the National team was chosen to go to Kuwait, the Late Mettananda was injured and was dropped from the team. I was the first stand-bye and was asked to join the pool, but the selectors at that time did not consider me fuit enough to be in the National team. The reason given was that I am not a left footer. On the day the selections were made, Victory SC played a Premier League match with Navy under floodlights at the Sugathadasa Stadium. Victory won this match 4-0. All the goals were netted in by me and they were all left footed goals.
This was because Zainul made all the openings and passed the ball in such a way that I had to kick with my left foot! His intention was to prove to the selectors and the coach that I can kick with my left foot too! After that I was selected for the tour. This clearly showed that he was not a selfish player and was always a team man at heart.In another instance, Nationalized Services played a match in an inter-league tournament (I cannot remember the other team) and Nationalized Service triumphed 23-0, but Zainul did not score a single goal. Whatever chances he got, he gave others to net the goals. Next day he got a shelling from Late Mr. Rasheed, the secretary of Victory SC at that time.
As a coach he has produced several National players and as a friend he has turned out a lot of soccer administrators as well. In addition to soccer he was a good basketball player too. He represented Newham SC and played alongside the Late Vishnu Mohan, who went on to captain the National basketball team.
In 1962 he contested the Municipal Council elections as an independent candidate but was not successful. He captained the National football team when they toured Pakistan to participate in the Agha Khan Gold Cup tournament. Sri Lanka came up to the final and lost to a club from Indonesia. If I am not mistaken, he was the first soccer captain to bring home a trophy (runners-up) to Sri Lanka.
He has served football in many positions. He was a board member under Mr. F.A. Yaseen, National Captain, National Coach, Technical Advisor, President City Football League, President Colombo Football League, and Secretary Nationalized Services. To my knowledge he was the only National player to hold these positions. This is a great achievement.
It was fantastic to watch him in action. His dribbling, his accurate passes and his body movements were a treat to watch. On the whole he was a soccer wizard. He was a specialist in free kicks and penalties.
All talk about Brazilian player Roaldhino for his free kicks. Zainul showed these stunts in the 60's and 70's – how to curl kick or swerve kick. Ronaldhino was not even born at that time!
We, the soccer players, especially from Slave Island, will miss you Zainul and will never forget you,
May the Almighty Allah grant his Jennathus Firdhouse.
M.I. Muthalif, 22E, Sriya Road, Wellawatte.