In spite of the inclement weather, three new records were established during the third day's proceedings of the four day National School Games which continued at the Sugathadasa Stadium yesterday.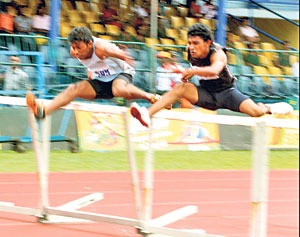 P.G. Bultjens of Vidyartha Kandy who won the Under 21, 110m hurdles final in action yesterday.
All the three records were in the Under 17 age group with one in the track events and two in the field events. The first record to be established was in the Under 17 discuss throw where in the five kilogram weight event Ashan Suguna Kumara of St Benedict's Kotahena made a haul of 15.43 metres which bettered the existing record of 14.31 set by Sanjuna Sumanaweera of Royal Institute last year.
The second record to tumble was in the 110m hurdles where K.D.S.V. Randeniya of Ranabima Rajakeeya MV Peradeniya finished the event with a timing of 14.25 eclipsing the record of 14.26 set by Ushantha Asiri of Anuradhapura MMV in 2006.
Amanthi Oshada de Silva of St Bridget's Convent Colombo accounted for the third record of the day when she threw a distance of 35.52 in the discuss event which bettered the record of 35.29 set by Devani Madurapperuma of Musaeus also in 2006.
In all seven records had been established and one equaled after the completion of three days of event yesterday. Two records each were broken on the opening and second day of the meet. From the 29 finals that were held during the day athletes from the Western Province dominated the proceedings winning 11 of these while Central Province succeeded in winning nine and Sabaragamuwa five with Wayamba securing three and Southern one.
The meet conducted by the Sri Lanka Schools Athletics Association has attracted 6895 athletes in the both the boys and girls categories representing 1052 schools around the island in the age groups of 15 to 21.
Uva Province had the most number of athletes with 422 in the boys and 401 in the girls. Surprisingly the North and East had the next most number of athletes with 420 in the boys and 389 in the girls' category.
The effort of the athletes proved worth as Vadiveshwaran Hariharan of Hartley College Jaffna took the Under 21 discuss throw event on the second day overcoming much fancied opponents from the other districts.
Meanwhile according to the unofficial standings Western Province is way ahead having secured over 600 points followed by Central Province, Sabaragamuwa Province and Wayamba Province. Today is the final day of the meeting.