A Level I, ICC endorsed coaching course was held at St John's College, Jaffna from 23rd to 26th September 2010. This four day programme was held under the guidance of the Coach Education Unit of Sri Lanka Cricket. The Coaching programme was conducted by former fast bowler J. C. Gamage, Heshan De Mel and Dulip Samarasekera.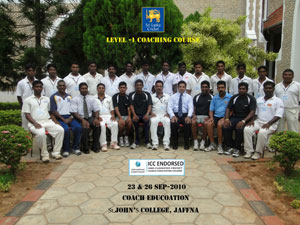 The Participants at the end of the course pose with the SLC coaching team.
Eighteen budding coaches from the Jaffna region participated in this programme, all participants showed great enthusiasm and it was successfully completed. Former National fast bowler and Jaffna Peninsula Provincial coach Ravindra Pushpakumara was instrumental in identifying coaches from various schools through the District Cricket Association. Among them were 2 Military officers Brigadier BCJAF Rodrigo and Lieutenant Colonel SPD Jayamahamudalige who also took part in this course.
The course content included batting, bowling, fielding, wicket keeping, role of coach, dynamic starching, warm up, warm down, umpiring, coaching philosophy, coaching style, communication, active listening, Coaches code of behavior and the spirit of cricket.
SLC provided 'Coaching Manuals' which were translated in Tamil & Sinhala languages as a reference, the teachings were translated in all three languages (Tamil/Sinhala/English)for the convenience of the participants.
This course will be of much importance to the participants who will be actively coaching young Cricketers in the Northern part of the Country.