Sri Lanka sevens team will have a tough time in India when they lock horns with the giants in International Rugby -- Australia and England. The other team in our group encounter will be Uganda is also no push over where the African outfit have shown their intentions clear in the African region.
The side led by Former Rajan, Kandy SC and present Air force player Radika Hettiarachchi.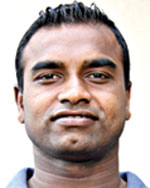 Radika Hettiarachchi
The side will leave the country tomorrow to India where the games will be worked off on 11 and 12 of this month. Radika last successfully led the national sevens team to a win the Plate at the Singer Sri Lankan International Sevens-2004 in Kandy. He will take over from Pradeep Liyanage who kept away from practices citing no proper plan for the side and personal reasons.
Peterite schoolboy and Youth rugby captain Shenal Dias will be donning the senior Sri Lankan jersey along with Romesh Arachige of the Police SC. At last, the hard working Milinda Jayasinghe of the Sri Lanka Air Force has got in to the national touring party. He performed very well at the recently concluded Club sevens. His vast experience in sevens rugby in India and New Zealand will help the outfit.
The side will be coached by the former Kandy SC, China and Germany national coach George Simpkin, who will also be head of the Organising Committee for the next month's Carlton Rugby Sevens which will be worked off in Colombo.
Shane Dullewa secretary and the Media spokesman of the Sri Lanka Rugby Football Union speaking to the Sunday Times said that we have a very young side and will be a good experience for them. He further said that there is no truth in saying that the training was stopped half way for the Navy and Air Force players to take part in a tournament in Malaysia. Four players went to Malaysia and Imthi Marikkar was the coach of the Air force team and he went on the Malaysian tour.
The national side is coached by George and Imthi is only managing the team. He ended by saying the Kandy players have sent medicals from a doctor and the SLRFU cannot do anything about that since all of them are injured at the end of a long season and it's a contact game being played.
Squad- Chanaka Chandimal, Chanaka Seneviratne, Dilan Soyza, Milinda Jayasinghe and Radika Hettiarachchi (All from Air Force), Sajith Saranga (Kandy SC), Visvamithra Jayasinghe, Srinath Sooriyabandara, Dinusha Chathuranga (CR & FC), Saliya Hapngoda (Army), Romesh Arachige (police SC), Shenal Dias (St Peter's)
Coach-George Simpkin, Manager –Imthisam Marikkar
The 2010 Commonwealth Games will be the 19th Games and the 9th to be held under its name. The games which will be worked off in New Delhi between 3-14 of this month. The previous tournaments where worked off in Canada (1978), Australia (1982), Scotland (1986), New Zealand (1990), Canada (1994), Malaysia (1998), England (2002) and Australia (2006).