Rajendran Tavaseelan forged determinedly past twelve other rivals, during the Annual Kinross Swimming Gala, to win the boys one mile sea swim, held yesterday at the Kinross Club. Battling against the strong waves created by the wet and trying weather conditions, Rajendran used powerful and quick strokes to take a comfortable lead over the rest of the field. The nineteen-year-old from Modara, who was competing in his first open sea swim meet, confessed to finding the inclement weather foreboding.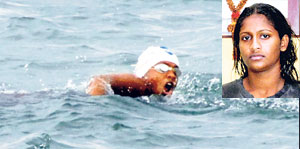 Winner of the one mile swim for girls, M. Chathini contending with the strong waves. Also pictured is Rajendran Tavaseelan who won the boy's one mile swim. (Picture by Sanka Vidanagama)
"I was afraid because the sea was very rough and it was hard swimming such a long distance in this tough weather. The swimmers competing against me were also very good, so that made things harder," Rajendran said.
Crossing the finish line behind him was Faris Fareed, who did his best to stay on course while being relentlessly assaulted by the large waves. Arun Kumar trudged through to clinch the final podium spot of the event.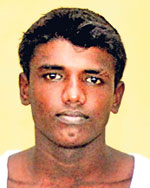 Rajendran
A large gathering of people, who cheered the participants, walked alongside the swimmers throughout the whole distance, enthusiastically cheering them on while being pelted by the rain. In the one mile swim for girls, which took place simultaneously with the men's event, M. Chathini strenuously chopped past Chethana Deshani to wade home in first place.
There were also two quarter mile swims in the Novices category for both the boys and girls. The first race for the boys saw young Darshan Kanagaraj emerge victorious, while in action during the girls' race, Thushani Perera brushed aside a stiff challenge from Chamanthi Navoda to swim into first place.
The Kinross Swimming Gala is held each year for members of the club as well as their families. The meet is held over two days, the first is allocated for the open sea swimming events while the final day sees action move to the swimming pool.